Noctua has introduced a new high-end CPU cooler designed exclusively for the small-form-factor or home-theatre PC crowds.
It's dubbed the NH-L12, priced at €49.90, and equipped with two PWM-controlled fans that promise to bring high-end cooling to tighter confines.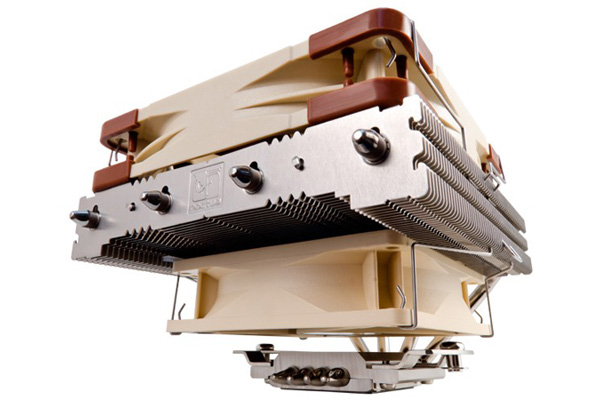 Sitting atop of the quad-heatpipe design is a 120mm NF-F12 fan, and on the underside there's a 92mm NF-B9. Noctua includes low-noise adaptors as part of the bundle, so while the fans are technically capable of speeds of up to 1,600RPM, that upper limit can be reduced to 1,300RPM to help keep noise levels in check.
Of course, size and form factor is what's really important here, so the cooler is designed to work in either dual-fan mode, or low-profile mode with the top fan removed.
The cooler stands 93mm-tall with both fans in place, but remove the top 120mm fan and the total height is reduced to a slim 66mm. Both fans are included as standard - as are mounting kits for all the latest Intel and AMD sockets - and Noctua backs up the cooler with a six-year warranty.
Exactly how good is it? According to Noctua, it provides "first rate performance in its class," but the NH-L12 "is not suitable for overclocking and should be used with care on CPUs with more than 95W TDP." In other words, it's great for your stock-clocked HTPC, but not ideal for your 4.8GHz gaming rig.