Launched in the middle of last year, Corsair's Hydro H50 all-in-one CPU water-cooler made quite the impression on us. Offering performance comfortably on par with the best air-coolers in an easy-to-install package, the cooler was a great alternative to traditional heatsinks. Not content to rest on its laurels, Corsair is looking to turn things up a notch with the new-and-improved Hydro H70.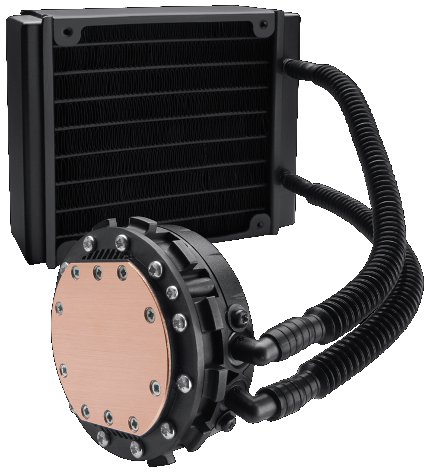 The manufacturer has gone back to the drawing board with this new model and seems to have rethought almost every component. The radiator is twice as thick as the H50's, which will provide a larger surface area and allow for much better heat dissipation. This is now combined with two dual-speed 120mm fans, arranged in a push-pull configuration, forcing air across the cooling-fins. The increased airflow over a single fan should keep temperatures suitably low, while the lower speed-setting will allow for quiet operation.
The cooling block has also been redesigned and features a new copper surface that integrates directly into the pump. Coolant channels in the plate then draw heat away more efficiently than the old design, notes Corsair. Along with a new pump design, this means that the CPU-block on the H70 is much smaller than its predecessor's. The more compact pump-assembly should allow plenty of clearance around the CPU socket for any other large components.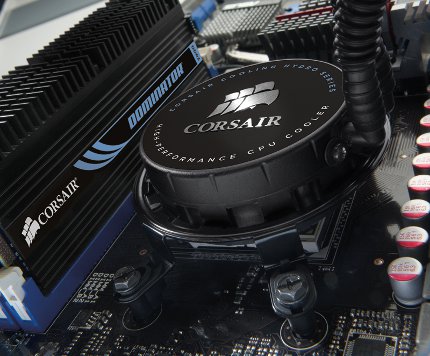 According to Corsair's tests, the new design should produce temperatures that are around 13°C lower than the H50 on an overclocked Core i7 920 chip running at 3.8GHz with 1.34V of juice. Of course, we'll have to verify this for ourselves, but considering that the older H50 was able to run with the best of the air-coolers, such an improvement would be very impressive.
The Hydro H70 will be available sometime next week, and Scan is already accepting pre-orders for the cooler priced at £77.20. This represents about a £20 premium over the older H50, but if Corsair's claims are true, it may well be worth it.