Remember Danamics? Back in 2008, the Danish manufacturer arrived on the scene with a liquid-metal CPU cooler that threatened to cast traditional water-cooled setups into memory.
Known as the LM10, it used an electromagnetic pump and liquid metal to provide thermal performance that Danamics claimed would "exceed most water coolers in a single device". Unfortunately for Danamics, it wasn't cheap, and its £235 price-tag led to it being discontinued some two months after retail availability.
That was way back in January, and though Danamics has always promised to be back with a new range of high-end computing products, it hasn't shown us anything else worth talking about... until now.
Unveiled today is the company's second-generation liquid-metal CPU cooler, the Danamics LMX.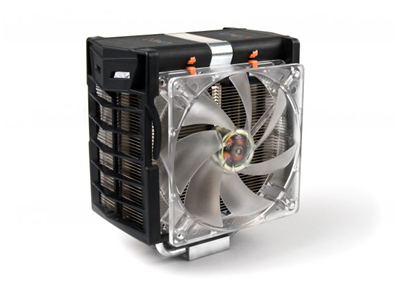 Measuring 158.2mm x 170.5mm x 90mm, the nickel-plated aluminium heatsink alone weighs 1,180g. Despite using similar technology - namely an electromagnetic pump that circulates liquid metal through the LMX without the need for moving parts - Danamics claims its enhanced second-gen pump results in a flow 300 per cent better than the erstwhile LM10.
Power consumption remains under 1W, and a new iron core promises to reduce the unit's magnetic field by a factor of up to 1,000 when compared with the now-discontinued LM10. The LMX also supports a variety of sockets straight from the off - including AMD's AM2/AM3 and Intel's 775/1156/1366.
The new-look cooler ships with two SilenX 120mm LED fans, and though a launch date remains unknown, we do have a price. Danamics tells us to expect the LMX to hit retail priced at €159 excluding tax - that's roughly £145 + VAT.
Still undoubtedly pricey, but we're looking forward to seeing how this one performs. Want to know more? Head on over to the official product page for an animated tour.