Intel's preparing to launch another new socket in the form of LGA1156 for its Lynnfield-based Core i5 and Core i7 processors, and that means you'll need a new CPU cooler - or, an existing cooler with a compatible mounting kit.
Fortunately for Noctua users, there's a solution in the form of the Austrian manufacturer's newly-announced NM-I3 SecuFirm2 mounting kit.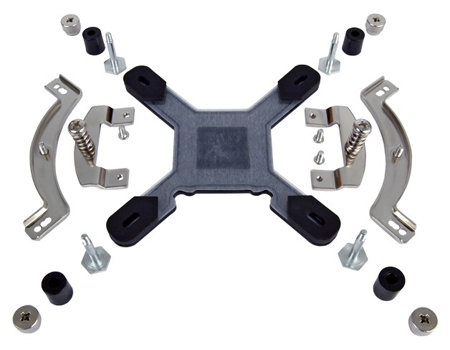 The kit, pictured above, will make all Noctua CPU coolers manufactured since 2005 compatible with either of Intel's mainstream sockets - meaning support for LGA775, LGA1156 and LGA1366.
Noctua made a similar kit available back in 2008, providing support for the then-new socket LGA1366. As was the case back then, the new NM-I3 SecuFirm2 kit will be made available free of charge to existing customers. In order to get your hands on one, you'll need to upload proof of purchase of both a Noctua cooler and a socket LGA1156 motherboard or processor.
It's good to see Noctua looking after its customers, and CEO Rolan Mossig had this to say:
Back in 2006 when AMD introduced the AM2 socket, we started providing free mounting kits because we think that product and service quality should always go hand in hand.

We've continued this tradition when Intel presented LGA1366 and we'll stick to our policy for LGA1156 as well. We always like to think of our coolers as safe long-term investments, and even if you bought one of our first models four years ago, you'll still be able to upgrade it to the latest socket technology free of charge.
We couldn't agree more, and we're hoping other CPU cooler manufacturers will follow suit. Further details on how to obtain the NM-I3 SecuFirm2 mounting kit can be found at Noctua.at.