It's an Ultra-120 eXtreme - in black!
Thermalright's latest version of its Ultra-120 eXtreme cooler carries two changes; it's now black in colour, and it's now called the TRUE Black 120.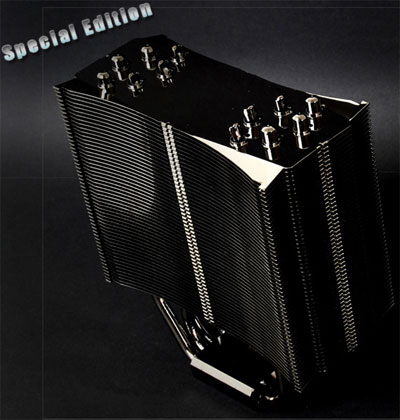 Pictured above, the new Special Edition heatpipe tower is black nickel plated and marketed as "meaner than ever".
The TRUE Black 120's dimensions are identical to the Ultra-123 eXtreme, measuring 63.44 x 132 x 160.5mm. It weighs in at 790g and supports Intel's 775 socket, and AMD's AM2+.
Its features, as listed by Thermalright, are as follows:
Quiet and powerful cooling due to multiple heat pipes and large aluminium fin area
Proprietary bent winglet design to minimise airflow resistance
6mm heatpipes, black nickel plater to prevent oxidisation, maintaining best heat transfer condition
Heat pipes soldered to base and fins for optimum heat transfer
Include both bolt-thru-board retention brackets for Intel and AMD
There isn't an official price just yet, but Thermalright tell us that pre-orders are starting any second now.