Noctua has released its long awaited next generation NF-A12x25 120x25mm fans. We saw samples of this fan back at Computex last June. Noctua has some amazing claims for the performance of this fan and a lot of the qualities on offer come down to the use of a patented new material dubbed Sterrox. In brief, due to the rigidity of Sterrox liquid-crystal polymer (LCP), it can be used to make fans with a very small tip clearance, so it can match or even beat two of Noctua's regular NF-F12 fans in cooling performance.

"The NF-A12x25 is our most advanced fan today. We've spent more than 4.5 years developing it and it's been easily the most thorny, intricate development project we've completed so far," explained Noctua CTO, Lars Strömbäck. "In order to achieve our goal of surpassing our renowned NF-F12 and NF-S12A, we went for a completely different approach and had to use a tip clearance of only 0.5mm, which poses various new difficulties in manufacturing."
With its record tight tip clearance, the Noctua NF-A12x25 120mm fans work more efficiently by reducing leak flows. Sterrox features extreme tensile strength, an exceptionally low thermal expansion coefficient and excellent dimensional stability to facilitate this design feature – but it also of course requires high accuracy in manufacturing.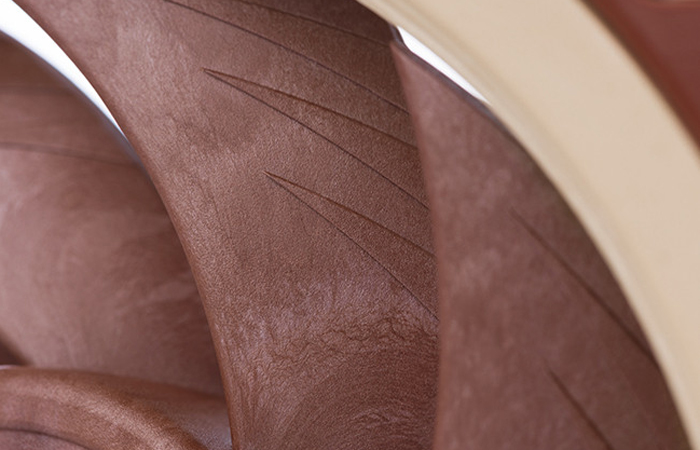 It isn't only the material which helps the new fan series become Noctua's flagship offering. The firm's latest and greatest design technologies are implemented too. Thus the NF-A12x25 is designed with AAO (Advanced Acoustic Optimisation) frame and Flow Acceleration Channels. For smooth running Noctua's reference-class SSO2 bearing is employed to create a well rounded premium product.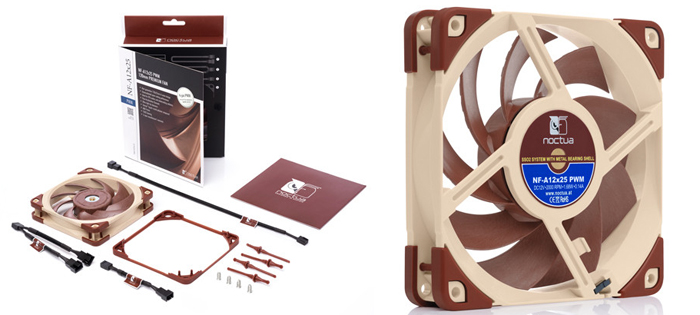 The NF-A12x25 will be available in a 4-pin PWM version for automatic speed control, 3-pin FLX version with Low-Noise Adaptors for three different speed settings as well as a near-silent 3-pin ULN (Ultra-Low-Noise) version.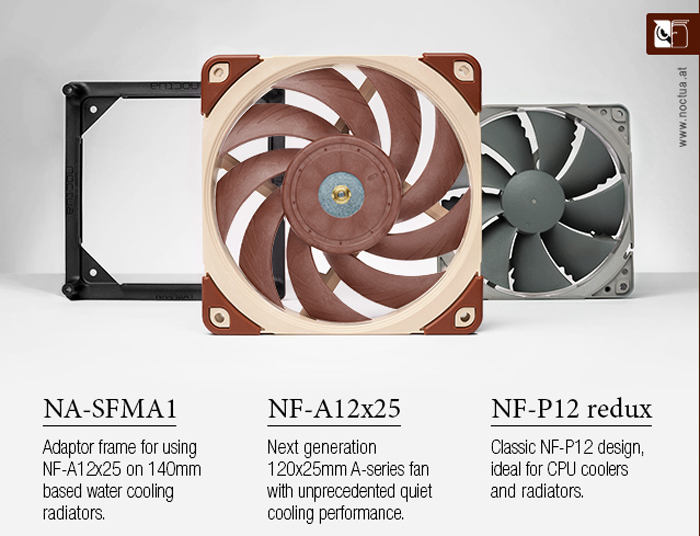 Noctua says that its new NF-A12x25 120mm fans are available immediately via Amazon in the North America and Europe. Suggested pricing is as follows: NF-A12x25 (all versions): EUR 29.90 / USD 29.90. NF-P12 redux (all versions): EUR 13.90 / USD 13.90. NA-SFMA1: EUR 11.90 / USD 11.90.