NF-B9 to compliment Noctua's 80 and 120mm fan series
Austria-based cooling specialist, Noctua, has today introduced its first 92mm retail fan. Accompanying its well received 80 and 120mm fans, the NF-B9 is available now at an RRP of €17.90.
Mag. Roland Mossig, Noctua CEO, says "Many avid Noctua users have already asked us for a 92mm model. After a development period of over 18 months, we're finally able to present a 92mm fan that fully meets our high demands and sets new standards in the 92mm range."
That's right, this little fan here took them some 18 months to develop. It utilises Noctua's "optimised blade design" that is said to reach exceptional levels of airflow that other fans can only achieve at much higher speeds. The NF-B9 can manage 64.3m³/h and 1.61mm H2O at 1600rpm. Not only that, but it's also fairly quiet at 17.6dB thanks to its bevelled blade tips and the vortex-control notches.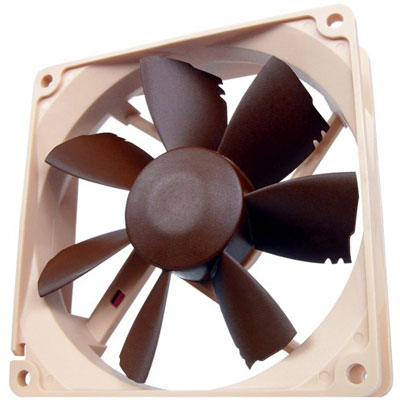 Shipping now, the NF-B9 comes complete with 6 years manufacturers warranty and an adaptor allowing fan speed to be reduced to 1300 or 1000rpm, for those who take quietness very seriously.
Official press release: Noctua presents NF-B9 92mm fan