German premium PC power supply, cooling and chassis specialist be quiet! has launched a completely new range of chassis. Today the firm announced the Dark Base 900 and Dark Base Pro 900, and from the nomenclature it looks like be quiet! is starting by launching the top of the range chassis first, as it did with its Silent Base series.
With the new chassis range be quiet! is trying to do things differently and is boldly claiming that the Dark Base 900 (and Pro 900) designs offer "modularity options for every demand imaginable". It doesn't just major in modularity through, it also throws in a heap of flexibility to the design as I will explain later - though modularity and flexibility do tend to go hand in hand.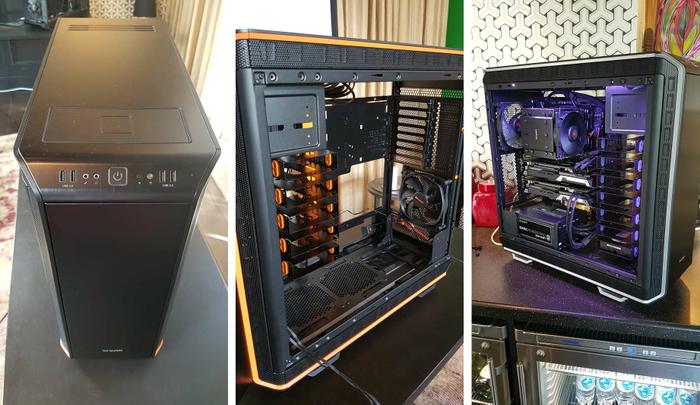 The first impressive aspect of the Dark Base is that it can accommodate "all sizes of motherboards." According to be quiet!'s definition, that is from Mini-ITX to XL-ATX. Much of that motherboard flexibility is down to the fact that the tray to which you will attach the motherboard is repositionable.
Taking the chassis' flexibility further are the relocatable HDD slots plus other storage mounting options within the chassis. There are seven HDD trays which can be taken out or left within the chassis as you wish. In total there's the capacity for up to 7x HDDs, 15x SSDs and a pair of ODDs, or whatever you choose to slot into the dual 5.25-inch bays.
Last but not least, the motherboard tray can be completely removed and used as a bench table for testing various components, as pictured below, before committing to the build. Once the system is ready it's a cinch to drop into the chassis body.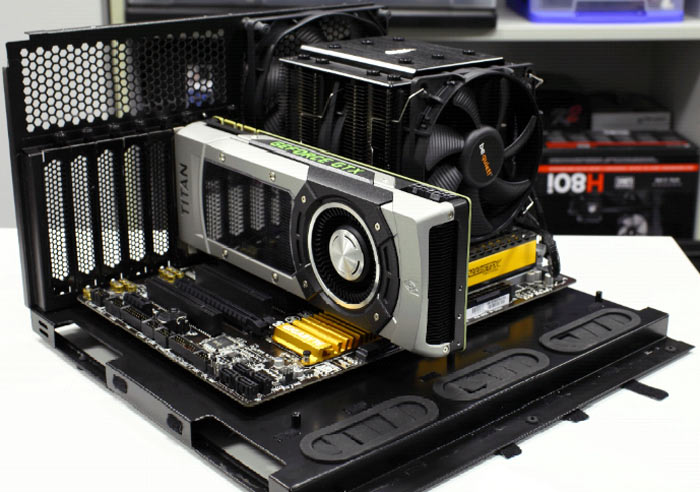 Noise dampened vents and insulated front, top, cover and side panels are installed as standard. The design offers a "full circuit airflow system", with a trio of "virtually inaudible" SilentWings 3 PWM fans and a (manual override) fan controller built-in. An additional two side fans can be added if you pop-out a panel on the side of the chassis. For water cooling you will find capacity for up radiators of up to 420mm long, in a choice of four locations.
Maximum compatibility for the Dark Base (Pro) 900 is; 185mm cooler height, up to 470mm graphics card length, and up to 284mm PSU length.
Turning to looks, be quiet! has equipped the Dark Base with a full window 4mm tempered glass side panel with rubber seals and a tinted option. The Dark Base Pro 900 adds LED lighting via two multi-colour RGB LED strips.
While on the topic of the Pro 900, another feature it boasts above and beyond its sibling is a Qi wireless charging port on the top panel, just behind the front array of ports and the power button. The only other difference with the Pro version is in its more sophisticated PWM fan controller, as you can see in the full spec list below.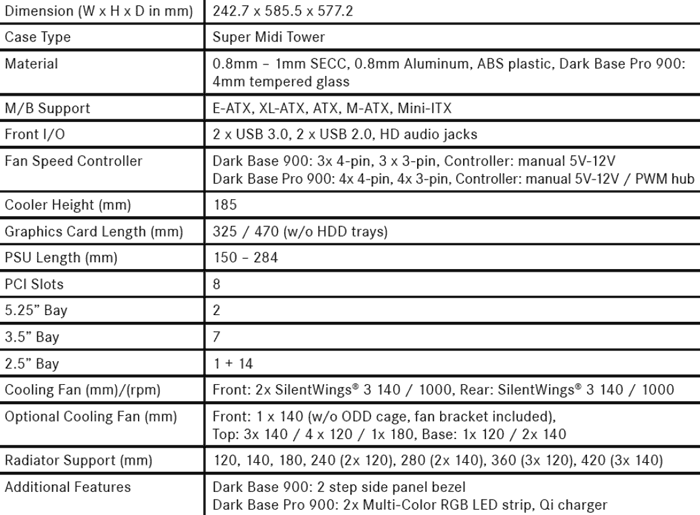 Pricing and availability for the be quiet! Dark Base 900 and Dark Base Pro 900 are yet to be announced.