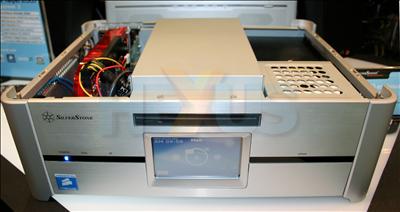 SilverStone has been known as a purveyor of excellent chassis for a while now. That reputation, it seems, is set to be further enhanced when the Grandia GD02 hits the market in Q3.

The new model features more than cosmetic changes from the incumbent GD01.

[advert]Capable of housing a regular ATX PSU, the GD02 was showcased powering a micro-ATX AMD 690G motherboard with Radeon HD 2900 XT graphics card. The Grandia's lid is curved to allow the HD 2900 XT's dual PCIe power connectors to be positioned correctly.

Far more interesting than the hidden I/O ports, substantial weight, aluminium-and-steel finish and multicard reader that I could prattle on about, is the LCD.





The 4in LCD is capable of displaying 1024x768 resolution and serves, most of the time, as a means of highlighting various system parameters that can be pulled from the integrated software's SideShow-like menu.

Indeed, you can even switch your main display off and watch Alexander in high-definition, should you find the strange urge to do so.

The build quality is good, the LCD can be put to a number of uses, and it will be available in Q3, according to SilverStone.

We'll be reviewing it in due course, so stay tuned.