Visit Thermaltake's booth at COMPUTEX '09, and you may find yourself too distracted by the inspired Level 10 chassis to notice anything else. That or the scantily-clad booth babes, if one don't get your attention, the other one likely will.
Get back to your senses, though, and you'll stumble upon what could be the most outrageous gaming chassis you've ever seen. It's called the Element V, and yes, that's a water bottle mounted to the side.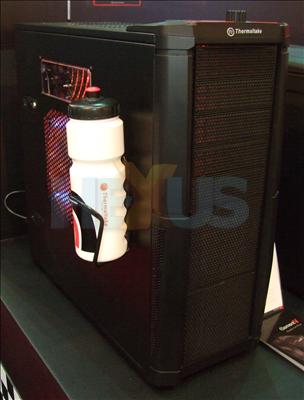 The chassis is designed for the LAN-going gamer, and well you wouldn't want to go thirsty during hot sweaty sessions of Counter Strike now would you? We didn't get as far as to see what's actually inside the chassis, but wait, there's more...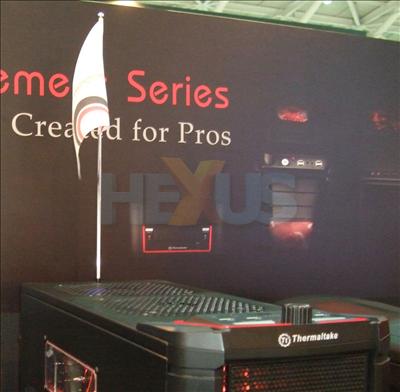 If your "leet" skills are enough to warrant clan membership, the Element V provides support for a flag to be mounted to its top panel - though you'll need to equip it with your own clan's emblem. Shame it isn't a motorised flag that erects itself at the push of a button - then we really would have seen it all.
We're not quite certain that the ideas will take off - but we'll let you draw your own conclusions. What we do like, though, is Thermaltake's ambition of launching a range of e-sports clothing and accessories.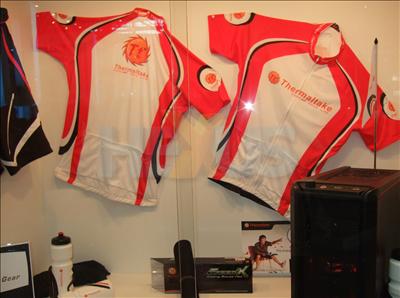 The range could consist of t-shirts, shorts, water bottles, mouse mats, gloves and whatever else they can think of. Unfortunately, it's not definitely happening just yet - but it's certainly being considered. After a brief chat with the genius that is HEXUS, Thermaltake agreed that allowing gamers to brand items with their own clan emblem could be mighty interesting. Hurry up Thermaltake, or we'll be sure to patent that money-making scheme.