MSI, a leader in true gaming hardware, is proud to announce its first lightweight gaming mouse the CLUTCH GM41 LIGHTWEIGHT, and a new gaming headset IMMERSE GH20. These new products provide more choices for mainstream gamers who are determined to win while appreciating refined gaming peripheral design.
CLUTCH GM41 LIGHTWEIGHT

LIGHT WEIGHT, HEAVY HITTER – CLUTCH GM41 LIGHTWEIGHT is MSI's very first lightweight gaming mouse. A high-end optical sensor offers precise high-speed tracking and pinpoint accuracy up to 16000 DPI. MSI FriXionFree Cable is an in-house developed cable, designed to ensure every movement glides with minimal drag on a mousepad or desk.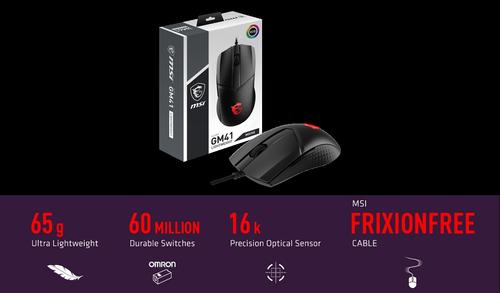 TAKE FLIGHT, 65g ULTRA-LIGHT: Weighing just 65 grams, the ultra-lightweight GM41 is perfect for competitive play, allowing gamers to effortlessly move and aim with agility and accuracy.
THOROUGHLY DESIGNED STRUCTURE: Designed with ingenuity, GM41 has been constructed with every single part being as lightweight as possible.
HOLD FIRMLY IN BATTLE: Hold the line in battle! The GM41 has diamond-patterned anti-slip grips with an excellent feel to touch, and a slim mouse shape that stays securely in hand and fits both palm grip and claw grip styles.
BUILT FOR VICTORY: GM41 is built to outlast any opposition! The OMRON switches are rated for 60 million clicks and are durable and reliable
EXTREME DPI UP TO 16000: A high-end optical sensor with extremely precise tracking delivers high speed reliability at 400 IPS and pinpoint accuracy up to 16000 DPI with a 1ms polling rate.
RGB MYSTIC LIGHT: Light up the battlefield with millions of colors and predefined effects or sync lighting with the rest of your RGB setup.
MSI FRIXIONFREE CABLE: MSI FriXionFree cable is engineered to minimize friction on your mousepad or desk for reduced impact on your movements or accuracy.
Specifications
MODEL NAME CLUTCH GM41 LIGHTWEIGHT
SENSOR: Pixart PMW-3389 Optical Sensor
LED LIGHT: RGB
Polling Rate: 1000 Hz / 1 ms
PRESET DPI SWITCH: 400 / 800 / 1600 / 3200 / 6400
MAX DPI: 16000
MAIN KEY SWITCH: OMRON 60M
Button Durability: 60 Million Clicks
BUTTON: 6
CABLE: MSI FrixionFree Cable
CABLE (M): 2m Braided with Gold-Plated Connector
DIMENSION: 130.1 x 67 x 38.3 mm
WEIGHT (PRODUCT / PACKAGE): 65g (without cable) / 186g
INTERFACE: USB 2.0
OPERATING SYSTEM: Windows 10 / 8.1 / 8 / 7
IMMERSE GH20

GET INTO THE GAME – IMMERSE GH20 is a lightweight gaming headset, weighing only 245 grams with a classic gaming headset look without RGB lighting. The ear cups are designed to be glasses-user-friendly and the soft headband padding spreads pressure on the head to ensure comfort when worn for long-term gaming sessions. GH20 is compatible with PC, Mac, gaming consoles and mobile devices with a 3.5mm audio jack and a Y-cable extension is included for wider microphone compatibility.
LIGHTWEIGHT AS A FEATHER: GH20 is lightweight and portable, weighing only 245 grams. This headset won't be uncomfortable even during long gaming sessions.
DESIGNED FOR COMFORT: The 2.5cm-thick, plush, and soft ear cups are designed to be glasses-user-friendly and comfortable for long-term wearing. The headband padding is thick and soft to spread pressure on the head.
SOLID BUILD QUALITY: The stainless steel headband is adjustable and the braided cable resists kinking
HEAR AND BE HEARD LOUD AND CLEAR: Hear enemies before you see them with 40mm driver units built into GH20's speaker cups. Make your shot-calls clear when speaking into adjustable microphone with a sponge that blocks breathing noises.
CONVENIENT AUDIO CONTROL: During fast-paced battle, the in-line controller gives easy access to speaker volume and microphone mute. Everything is under control.
CROSS-PLATFORM COMPATIBILITY: The GH20 is compatible with PC, Mac, XBOX, PlayStation, Nintendo Switch, other game consoles, and mobile devices with a 3.5mm audio jack and a Y-cable extension.
Specifications
MODEL NAME IMMERSE GH20
SPEAKER: DRIVER UNIT 40mm Neodymium
SPEAKER FREQUENCY RESPONSE: 20-20000Hz
SPEAKER SENSITIVITY: 95dB ± 3dB
SPEAKER IMPEDANCE: 32Ω
MICROPHONE PICK-UP: Unidirectional
MICROPHONE FREQUENCY RESPONSE: 100-10000Hz
MICROPHONE SENSITIVITY: -36dB ± 3dB
MICROPHONE IMPEDANCE: ≤2.2KΩ
HEADSET CABLE: 1.5m braided
EXTENSION Y CABLE: 0.3m braided
DIMENSIONS: 172 x 83 x 196mm
WEIGHT (PRODUCT / PACKAGE): 245g / 492.5g
CONNECTOR: 3.5mm audio connector
Dragon Center
Dragon Center has been refreshed into a brand-new software suite which integrates all MSI software into one platform. Customizing your MSI products' performance and settings are just a click away. RGB Mystic Light which controls RGB LED effects is now also integrated into the MSI Dragon Center.