Amsterdam, MAY 2007





Club 3D is proud to announce today a new graphic card based on a NVIDIA chipset. The new generation of DirectX® 10 graphic cards increases with a new mid-range product with completely passive cooling.





Club 3D 8500 GT 512 MB PASSIVE



The Club 3D 8500 GT 512 MB passive is based on the latest G86 chipset from NVIDIA. The graphic card is clocked with a 800 MHz 512 MB GDDR2 memory and a GPU speed of 450 MHz. The Club 3D 8500 GT 512MB passive is now the most attractive low priced DirectX® 10 graphic card with passive cooling available. The perfect graphic card for HTPCs or modern noiseless PCs with support for HD Video.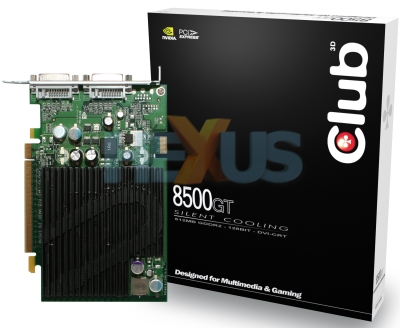 Technical specifications



• 512 MB GDDR2 memory
• 128 BIT memory interface
• 400 MHz RAMDAC
• 16 stream processors
• PCI Express x16 interface
• Full support for Microsoft DirectX® 10
• Shader Model Version 4.0
• 2x/4x/8x/16x anisotropic filtering
• 2x/4x/6x multisampling anti aliasing modi
• HDTV, Full HD, PureVideo™ HD technology



Connections



• Dual Link DVI-I out (max. 2560x1600)
• CRT out (2x max. 2048x1536 @85Hz)
• S-video & components video output (1024x768)
• HDTV out YPrPb (1920x1080p)