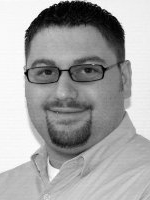 This is a guest blog by Jeff Underhill, director for server programs at ARM. The views expressed in this blog are his alone. We invited Jeff to share some of his thoughts on how ARM fits into the ever-burgeoning data center space.
Mobility, IoT and data centers are all closely linked
When you think about mobility and the Internet of Things (IoT), the chances are your first thoughts are of the cool, compact, battery-operated gadgets we carry with us on a daily basis – smartphones, tablets, smart watches, fitness devices, etc. Maybe you think about the positive impact these devices have on our daily lives. Freeing us to work remotely while increasing productivity, keeping in contact with friends and family while standing in line at a store - you do still go to stores, right? - checking on and controlling our homes when we're away, and increasing health and fitness through greatly improved monitoring. Some of the things we may take for granted today weren't even conceivable just a few years ago... but are fuelled by a period of rapid innovation and growth across the mobile, IoT and wearable markets.
According to Pew Research, "As of May 2013, 63 per cent of adult cell owners use their phones to go online and 34 per cent of cell internet users go online mostly using their phones, not using some other device such as a desktop or laptop computer." It's highly likely you're reading this blog on a mobile device right now.
What about the impact of increasingly wearable technology? A personal favorite of mine is paying for coffee using my Pebble Steel watch. Talk about convenience, and it is a real conversation starter - seriously, baristas are not familiar with this technology yet so people in line will often say "Hey, wait, what did you just do?"
Data centers - home to all the computers you may not even know you're using
Segueing nicely, here's a formula for you to consider: Mobility + IoT = a profound impact on next-generation data centers.
ARM® technologies can be found at the heart of all these cool mobile devices. Now, ARM is entering the data center, too. Through a strong and growing community, 50 billion ARM-based chips have shipped to date, and 10 billion of those shipped last year alone. Think about that for a second, 50 billion chips. Do you know how many years it will take for a human to blink 50 billion times? For more information, check out the new ARM microsite at http://www.50billionchips.com/.
Have you ever stopped to think about all these new applications, and why so many of them are web- and cloud-based? And more importantly, what's actually going on behind the scenes?
Let's take a closer look at a very common example – the recommendation engine. Any time you've come across a web-based service that appears to know you better than you know yourself, there's a data center behind the scenes mining an ever-increasing data set for important 'insights' that help service providers offer you a more tailored solution. This is broadly referred to as Big Data - the process and infrastructure needed to collect and mine lots of unstructured data to uncover valuable insights. But it starts with little data such as tweets, status updates, liking things, web searches, check-ins, product reviews, watching videos, e-mails, internet-connected things, home automation, cell-phone GPS location data, etc. We trade this information for low-cost or often free services that we deem indispensable. Calling all teenagers that don't think Facebook, Snapchat, etc. are mission-critical services – I suspect there are very few takers!
Extracting insights from masses of seemingly unrelated data is increasingly valuable, and there's an expanding set of data to mine. As a result, for large web/cloud service providers, the data center is at the heart of their business. The costs and complexities associated with building and operating data centers represent a huge impact on the bottom line. Optimizations throughout the data center - servers, storage, network infrastructure, power and cooling - are considered competitive advantages, and as such, these companies are always looking at new and innovative ways to optimize for their specific workloads. On a massive scale, these optimizations represent an opportunity to save billions of dollars. Facebook shared a concrete example at the recent Open Compute Project Summit stating "over the past three years it has saved $1.2bn as a result of data center redesign." Lakshmi Mandyam, director of server systems and ecosystem at ARM, wrote a roundup of ARM-related news from the OCP Summit here.
Competition is good; choice fosters competition
A few years ago, several ARM partners set about revisiting server design to better meet these new classes of workloads in a way that would provide the next-step function efficiency improvements, and ultimately, reduce total cost of ownership (TCO). The ARM partnership showed the world what was possible when you challenge convention and empower engineers with innovative, enterprise-grade technology building blocks with DNA strongly rooted in the power-efficient mobile world. Collectively, we've already changed the industry as incumbent players have taken note and adjusted their roadmaps in favor of system-on-chip (SoC) designs.
While we've seen initial server success with 32-bit ARMv7 architecture-based solutions from Marvell and Texas Instruments, the arrival of 64-bit ARMv8-A architecture-based solutions marks a significant increase in the number and diversity of solutions. Applied Micro, AMD, Broadcom and Cavium have all made announcements about 64-bit solutions. Choice gives data center operators the opportunity to select best-of-breed solutions that enable them to meet their TCO goals. As a result, there is clear and growing demand for more workload-optimized solutions by a server market that was largely devoid of choice for the past 20-plus years. However, as mentioned earlier, data-center operators are responsible for managing complex environments, and they must balance new technology adoption with any potential complexities that a heterogeneous environment may bring.
Standards accelerate time-to-market and ease deployment
Imagine that you have a data center with thousands of existing servers. You may have a single OS running throughout your data center or you may have multiple OSes, but either way, you will likely have a single variant of each OS that deploys across all servers in your data center. Having to adopt a unique OS in order to roll-out new and innovative hardware is not acceptable. It would quickly become unwieldy to manage and cause significant maintenance overhead, especially managing updates and patch-sets to fix major bugs or security issues.
With multiple ARMv8-A architecture-based server solutions coming to market this year, it's important to ensure that OS, firmware and software developers can rapidly develop and deploy on ARM-based servers, especially since there will be more choice and a broader diversity of solutions. The ARM partnership worked together to help ensure this would be the case when ARMv8-A architecture-based servers became a reality, and this is why the release of the ARM Server Base System Architecture (SBSA) specification is such an important milestone. The SBSA specification has been in development for some time, and represents close collaboration across the ARM partnership from software companies, OEMs and silicon partners, including: AMD, Applied Micro, Broadcom, Canonical, Cavium, Citrix, Dell, HP, Linaro, Microsoft, Red Hat, SUSE and Texas Instruments.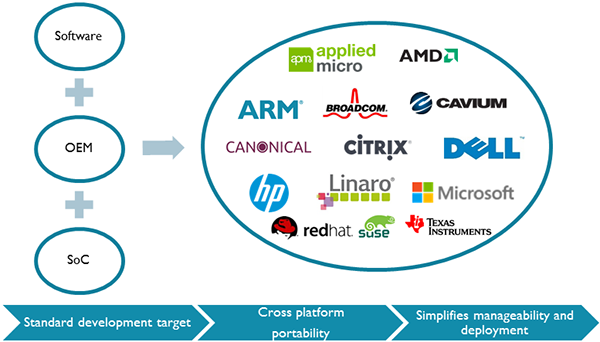 A large part of the ARM value proposition stems from a licensing model that empowers partners with technology building blocks on which they can innovate and develop compelling solutions. This means standardization efforts must strike a balance to avoid diluting or eliminating innovation. As owners and stewards of the ARM architecture, we are pleased to collaborate with other industry leaders to drive standards that help strike that balance and enable OS, firmware and software developers to rapidly develop and deploy on ARM-based servers. For more details on SBSA, please check out my previous blog.
Watch this space - IoT and ARM in the data center is just getting started
In the mobile market, we've already seen a lot of innovation and growth over the past few years. Smartphones and tablets are much more capable today than they were just a few years ago. As for IoT, we're still somewhat early in the adoption cycle, but it's heating up fast. We've already seen some of what's possible with innovative products from Nest (now Google), Revolv, Fitbit and Pebble, but there's a reason the 'T' in IoT represents 'things' – it's because the breadth of 'things' defies definition. We're at a really interesting inflection point in the data-center market with ARMv7 server and network infrastructure products already deployed and ARMv8-powered 64-bit server solutions on the immediate horizon with initial standardization in place to ease adoption. This is the year of ARM servers!

If the last few years are anything to go by, the next few years are going to be really interesting.