Remember the streamlined Thermaltake Level 10 GT chassis we mentioned earlier this week? Well, it's here.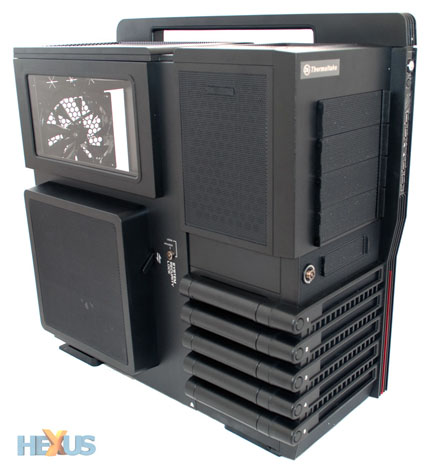 The high-end enclosure has landed at HEXUS HQ and before we bring you our upcoming review, we thought we'd provide a few first impressions for you to mull over this coming weekend.
First things first, what is the Level 10 GT?
Designed as a "mainstream" successor to the original Level 10, it's basically a smaller, lighter and cheaper alternative to the 2009 chassis that many coveted but few could afford. Priced at around $249 (roughly £190 inc. VAT), the GT is over £300 cheaper than the original and may end up being a better performer, too. Let's not forget, the Level 10 may have been jaw-droppingly beautiful, but it offered impractical dimensions and average cooling performance at an exorbitant price.
The GT takes a more sensible approach. Measuring 584mm x 282mm x 590mm and weighing 12.7kg, it's still a monster of a tower but it's smaller and comfortably lighter than its predecessor - which measured 614mm x 318mm x 666.3mm and weighed an astonishing 21.4kg.
Sounds like a step in the right direction, but we're not entirely sure it is. The original Level 10 may have failed at practicality, but it was different, it was unique, it had futuristic looks and its unusual approach had us believing in its potential. It was the DeLorean of the chassis market; inspiring, loved but ultimately destined to be a footnote in the history books.
At first glance, the subsequent Level 10 GT is going to struggle to live up its predecessor's aspirations. Whilst the original Level 10 was built from extruded aluminium, the GT is a combination of steel and plastic. Where the Level 10 had multiple components that opened like a butterfly, the GT has a big door that swings open and slams shut. It's an entirely different beast.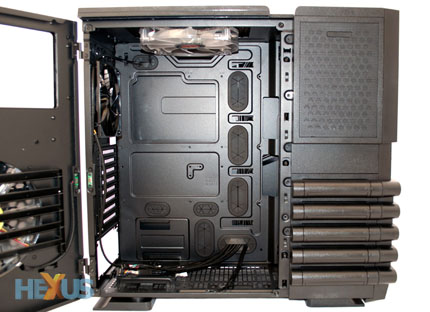 As a consequence of the cost-cutting alterations, the chassis no longer oozes charisma and wow factor. It comes across instead as a Chinese knock-off of the original concept.
But perhaps that's the idea? It's hard to ignore the massive £300 price discrepancy between new and old, and the Level 10 GT is now far better placed to compete with high-end alternatives such as Corsair's Obsidian Series.
Get past the disappointment of realising that the original Level 10 was too ambitious, and you start to notice the potential of this toned-down substitute.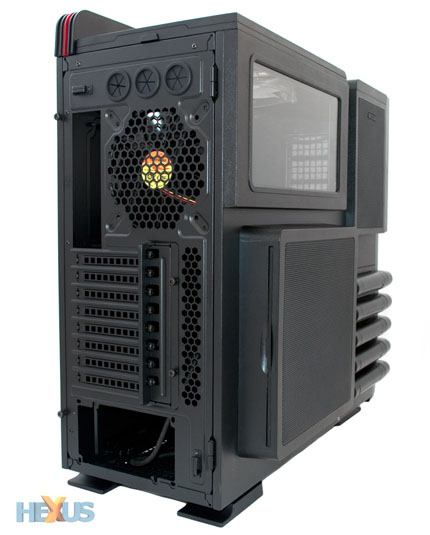 As a high-end gaming tower, the Level 10 GT appears to have ample room to work with. There's space for an mATX, ATX or eATX motherboard, graphics cards measuring up to 360mm in length and a total of 10 drive bays - four 5.25in, an external 3.5in and five hot-swappable external bays that'll accommodate either 2.5in or 3.5in drives.
The rubberised cable-routing holes and removable back panel suggest cable management will be a doddle, and there's a sizeable cutout in the motherboard tray for CPU cooler installation. Building into this tower shouldn't take us long, and we doubt we'll be needing any additional fans. Out the box, the Level 10 GT comes equipped with a 200mm front intake, a 140mm rear exhaust, a 200mm top exhaust and another large 200mm side fan. That's a fan more than the original Level 10, and with airflow not constrained to individual compartments, we'd expect thermal performance to be better.
In keeping with others in the Thermaltake range, there are a few token novelties, too. These include colourshift fans that'll let you illuminate the chassis to your tastes, a lockable security system and a clip-on headset holder for hanging up your headphones.
Does the more sensible approach make sense? Is there still life left in the Level 10 range? You'll get all the finer details in our upcoming review.
Level 10 GT
Level 10
Model number
VN10001W2N
VL20001N1Z
Available colour
Black
Black
Material
Steel and plastic
Aluminium extrusion
Dimensions
584mm x 282mm x 590mm
614mm x 318mm x 666.3mm
Weight
12.7kg
21.37kg
Motherboard support
mATX, ATX, eATX
mATX, ATC
5.25in drive bays
4 exposed
3 exposed
3.5in drive bays
5 hidden, 1 exposed
6 hidden
I/O panel
USB 3.0 x2
USB 2.0 x4
Mic x 1
Audio x 1
eSATA x1

USB 2.0 x 4,
Mic x 1,
Audio x 1,
eSATA x 1
Expansion slots
8
8
Cooling system
Front intake: 200mm colorshift fan
(600-800RPM, 13-15dBA)
Rear exhaust: 140mm turbo fan
(1,000RPM, 16dBA)
Top exhaust: 200mm colorshift fan
(600-800RPM, 13-15dBA)
Side intake: 200mm colorshift fan
(600-800RPM, 13-15dBA)
Front intake: 140mm red LED fan
(1,000RPM, 16dBA)
Rear exhaust: 120mm RED LES fan
(1,300RPM, 17dBA)
HDD intake: dual 60mm fans
(2,500rpm, 19dBA)
Power supply
Standard PS2 (not supplied)
Standard PS2 (not supplied)