The highly anticipated Nokia Lumia 1020 was officially unveiled in New York yesterday. The camera design, promotional images and specs had been widely leaked ahead of the event. Earlier in its development this smartphone had the internal codename 'EOS'. We've seen the PureView 41-megapixel sensor employed by the new Lumia 1020 before; integrated into the Nokia 808 Symbian Belle based smartphone last year.
Short Nokia Lumia 1020 promotional video
In a new post on the Conversations by Nokia official blog headlined Nokia Lumia 1020: the smartphone camera revolution begins! the company says that "The Lumia 1020 combines unmatched picture detail and quality with an effortless capture, edit and sharing features." Nokia has combined the 41-megapixel sensor with Zeiss optics and an OIS system to make your photographs "sharper and clearer than ever before". Because of the sheer amount of imagery captured Nokia claims you can snap away and then "simply reframe the photo afterwards to make it perfect using our new Nokia Pro Camera application".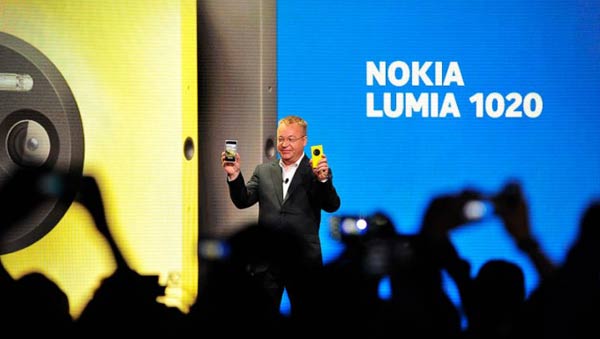 'Pro Camera' is the default camera app on the Lumia 1020. As you can see briefly in the videos above and below, it displays an intuitive wheel overlay interface on the smartphone screen to help you capture images to please your eyes. "You can see exactly what changing settings like exposure level, white balance, shutter speed and film ISO do to a shot before you take it."
Nokia Lumia 1020 Pro Camera experience video
The 'Dual Capture' feature of the Lumia 1020 "simultaneously takes a full resolution photo for endless reframing opportunities, and also presents you with a 5 megapixel image, which is easy to share on social networks like Facebook or on your Windows Phone 8 SkyDrive". The large version of the photo is kept for later reframing and editing. Nokia suggests that later on you might decide to do something as simple as straighten the horizon on the picture captured or isolate subjects for individual portrait shots.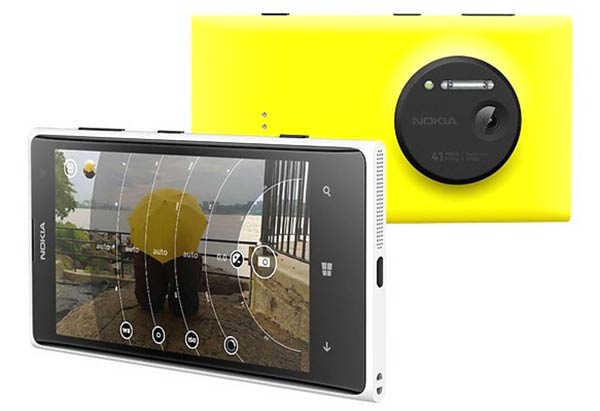 An optical image stabilisation (OIS) system is in place to keep details wobble-free so you can avoid the blurry problems of camera shake "even at night". Nokia also claims the "next-gen" xenon flash built into the Lumia 1020 is capable of freezing action captured at the 1/16,000 of a second shutter speed supported by the camera. Shutter speeds as long as 4s are also supported.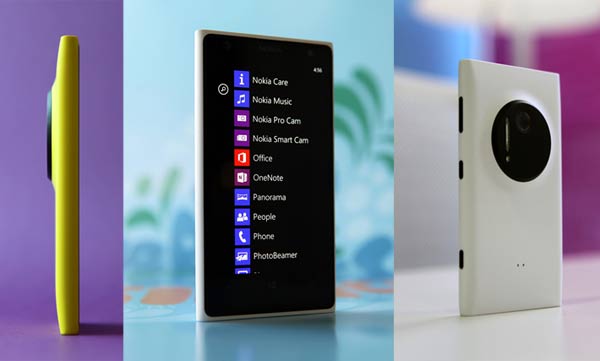 Turning to the smartphone's audio capabilities Nokia says that it supports a new 'Nokia Rich Recording' standard which is great for rock/pop concerts as it is "capable of handling sound pressure levels six times louder than conventional smartphone microphones" in stereo.
The Nokia Lumia 1020 will be available in yellow, white and black. Sales of these phones will start on 26th July in the US at $299 plus the price of your monthly calls/SMS/data contract. The new Lumia will be available in Europe and China "this quarter".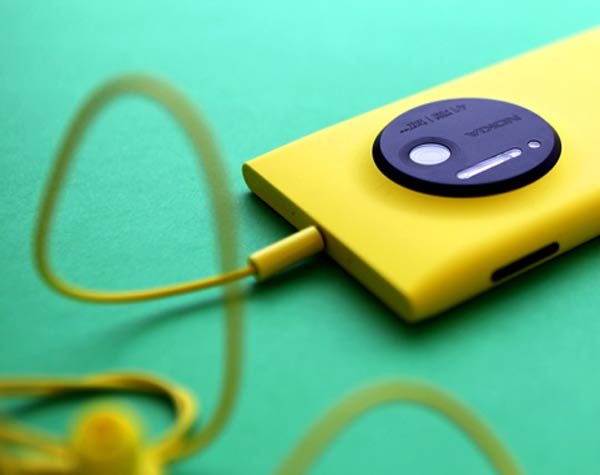 Nokia Lumia 1020 tech specs
Networks: GSM: 850 MHz, 900 MHz, 1800 MHz, 1900 MHz, WCDMA: 2100 MHz, 1900 MHz, 850 MHz, 900 MHz, LTE network bands: 1, 3, 7, 20, 8
Display: 4.5" AMOLED WXGA (1280×768), 2.5 D sculpted Corning Gorilla 3 Glass, ClearBlack, high brightness mode, sunlight readability, super sensitive touch
Battery: 2000 mAh battery, wireless charging supported via cover
Processor: 1.5GHz dual-core Snapdragon
Main camera: PureView 41-megapixel with optical image stabilization, Resolution: 7712 x 5360. Includes Nokia Pro Camera. Xenon flash for still images, LED flash for video
Front facing camera: HD 1.2-megapixel wide angle
Memory: 2GB RAM, 32GB internal memory; 7GB free SkyDrive cloud storage
I/O USB2.0, BT 3.0, NFC with SIM based security, WLAN a/b/g/n, A-GPS and Glonass, 3.5 mm audio connector
Size/weight 130.4 x 71.4 x 10.4mm, Weight: 158g
Do you buy a smartphone with an eye on the camera functionality?
The BBC quotes an interesting IDC survey which tried to identify important factors driving a smartphone purchase. Camera functionality (more precisely, resolution) was only rated "15th on a list of 23 features". It is thought that most smartphones offer "good enough" cameras for Facebooking and Twittering etc. However IDC's mobile phone analyst, Francisco Jeronimo, told the BBC "For an amateur or professional photographer who needs a quality camera on the move, this is the best option available on a smartphone". He also praised the new 'Pro Camera' interface.
Nokia Lumia 520 is the Windows Phone king.
In related news it was revealed by AdDuplex yesterday that the "Nokia Lumia 520 is the new WP king worldwide". Nokia must be hoping the Lumia 1020 halo will help extend the appeal of all its more accessibly priced phones.