Nokia officially announced the Lumia 928 on Friday and published a hands-on video at that time. Over the weekend we have seen a new promotional video launched to try and sell the new smartphone to US customers on the Verizon network. The video shows a lot of features of the new Lumia 928 but a lot of those features were present in the Lumia 920. Some tech sites are disappointed and see it, rather than a new smartphone model, as just a tweaked 920 for an American partner network.
The (noisy) promo video above boasts of the Lumia 928's – speakers, panorama functions, image and video capture, photo filters and editing, sharing, City Lens, mapping, NFC and wireless charging.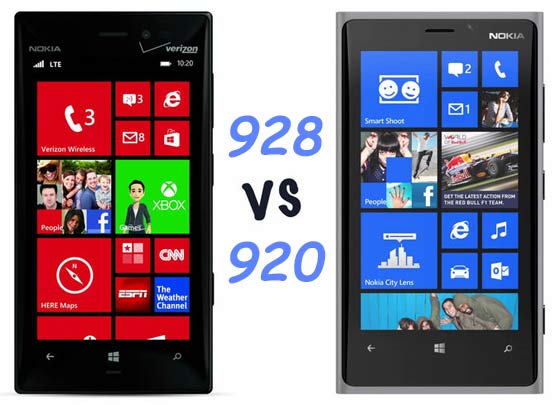 The differences between the Nokia Lumia 928 and the Lumia 920 are as follows;
Camera: Xenon Flash capability on Lumia 928 main camera. Front facing camera is 1.2MP rather than 1.3MP.
Physical: The Lumia 928 is 133 x 69 x 11mm rather than 130.3 x 70.8 x 10.7mm. The Lumia 928 is lighter at 162g rather than 185g.
Display: edge to edge OLED display, the Lumia 920 has an IPS display.
Speaker/Mic: The speaker is said to be improved as is the three-mic audio input system.
Battery: According to Nokia spec the Lumia 928 has significantly better talk and standby times of 16.2 Hrs and 541 Hrs compared to the Lumia 920's 10.8/460. With the same battery capacity we must assume the OLED screen helps reduce the battery usage.
Colours: the new Lumia has been announced in just black or white.
Tuesday's Nokia Lumia event in London – Catwalk coming?
The Nokia Lumia London event is almost upon us. A Nokia teaser video on Channel 4 at the weekend showed what looked like an Aluminium finished smartphone with a very big lens. The video stated the device offers "more than – your eyes – can see," followed by "the new Nokia Lumia is coming".
It is expected that this will be the "Catwalk" aluminium cased smartphone with a big lens camera, possibly a 41MP PureView unit. It's not long until we find out but hopefully this won't be "disappointing" like the Verizon Lumia 928 reveal a couple of days earlier.