Chinese Windows Phone site WPDang has unearthed a new model Nokia Lumia phone that will slot into Nokia's offerings at the mid/cheap end of the market. The new device is claimed to be called the Nokia Lumia 830, oddly the device is supposed to sit beneath the Lumia 820 in Nokia's WP8 range as a successor to the capable and keenly priced Lumia 710.
| | | |
| --- | --- | --- |
| | Windows Phone 7.5 | WP 7.8/Windows Phone 8 |
| Budget product | Lumia 610 | Lumia 510 |
| Mid market | Lumia 710 | Lumia 830 |
| High end mass market | Lumia 800 | Lumia 820 |
| Top end aspirational | Lumia 900 | Lumia 920 |
Was there something bad about the number 720, is it the HD-ready video connotations that caused this apparent naming glitch? If we look at the range numbering in the table above the old numbers didn't make a lot of sense either. With the new Lumia WP 7.8/Windows Phone 8 range there is a gaping numerical chasm between the Lumia 510 and Lumia 820. WPDang suggests that the leading numeral 8 is now reserved for smartphones running Windows Phone 8.

In a post entitled "Nokia Lumia 830, new army of the mid-market" WPDang lets us in on a few details that its spies have found out about this new smartphone. The site says the new Nokia Lumia 830 will be available in five colour variations and this is backed up with picture evidence. It's nice to see a green one for a change. However WPDang reveals no hardware specs at this time so it is hard to know what corners have been cut to make this Windows Phone 8 device cheaper than the Lumia 820.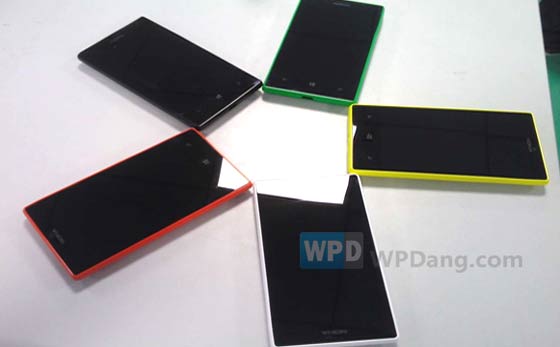 The Nokia Lumia 820 is available SIM-free for £380 in the UK and the Lumia 920 for about £470. This pricing leaves a large gap between the Lumia 820 and the current budget Lumia 610 which sells for about £100. Nokia does need some smartphone market coverage in the wide region between these offerings rather than leaving this high-volume pricing bracket to competitors like HTC, ZTE, Huawei and Samsung etc.