Samsung has unveiled a range of new tablets at the CES in Las Vegas. Four devices in all were shown off for the first time; a Samsung Galaxy NotePRO with a 12.2-inch display and three TabPRO models with screens of 12.2, 10.1, 8.4-inches. Samsung says these new introductions extend its range with "best-in-class media consumption and productivity capabilities". The devices will come with a variety of connectivity options including Wi-Fi Only, Wi-Fi and 3G, or Wi-Fi and LTE. Buyers of the large 12.2-inch tablets will also receive a software gift package said to be worth $700.
Galaxy NotePRO 12.2-inch
Anyone with any knowledge of Samsung products will probably guess that the NotePRO is an Android tablet with a Samsung S Pen stylus. As such it makes use of the stylus centric suite of apps on other Samsung Galaxy Note devices and multi-window multi-tasking capabilities. This tablet has Google's latest Android 4.4 KitKat installed as the OS.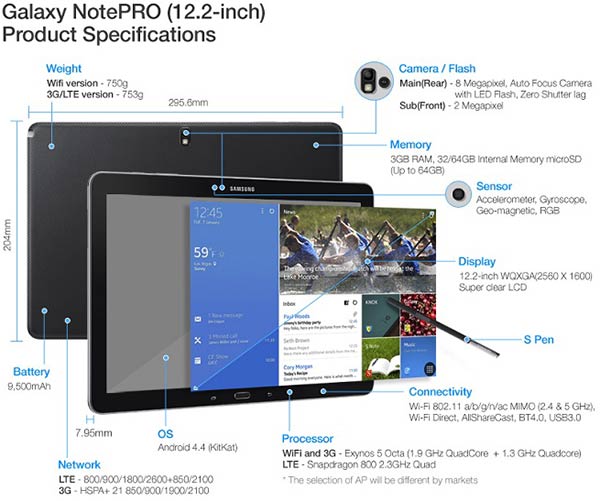 The NotePRO has a large 12.2-inch screen with 2560 x 1600 pixels (16:10 aspect ratio). Wi-Fi and 3G models utilise the Exynos 5 Octa (1.9 GHz Quad-core + 1.3 GHz Quad-core) processor but the LTE version uses a Qualcomm Snapdragon 800 2.3GHz Quad-core. 3GB of RAM is present and storage capacities of 32/64GB built-in and microSD (Up to 64GB) are available.
The tablet has an 8MP front camera with LED flash and "zero shutter lag", a front facing camera offers 2MP. The NotePRO weighs around 750g and is under 8mm thick. A 9,500mAh battery is installed.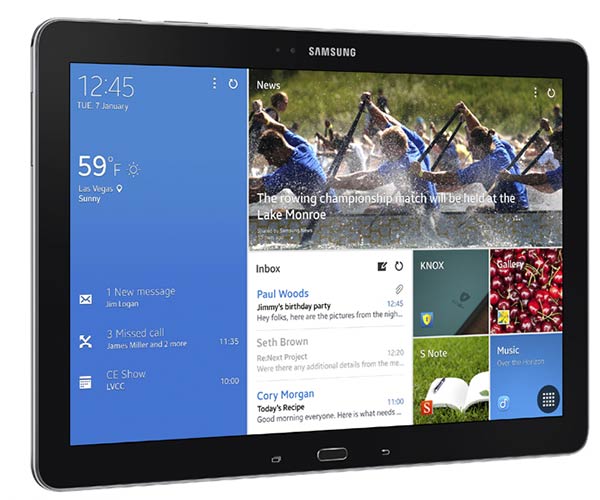 Galaxy TabPRO tablets
The 12.2-inch TabPRO is almost identical in specification to the NotePRO detailed above except for being 10g or so lighter and no S Pen functionality.
The 10.1 inch TabPRO model also offers a very similar specification of components within its smaller frame. Even its reduced screen size offers the same resolution of 2560 x 1600 pixels. Notable differences are of course the reduced size and weight. Samsung has also packed a smaller battery (8,220mAh) and 2GB of RAM rather than 3GB. Internal storage options are 16/32GB rather than 32/64GB. You still get a microSD card slot.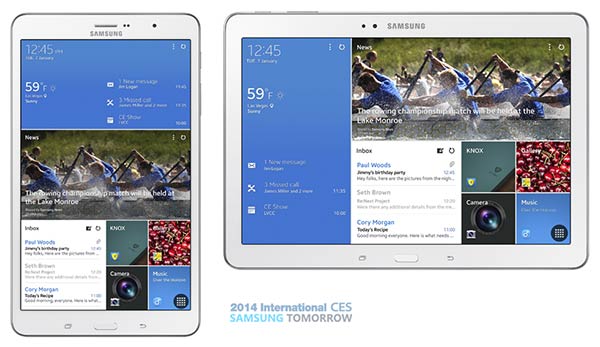 Samsung's Galaxy TabPRO 8.4-inch tablet maintains the screen resolution of 2560 x 1600 pixels packing its 8.4-inch screen. Only one processor option is listed as the Snapdragon 800 2.3 GHz Quad-core but this apparently will vary by market. Camera, RAM, storage and other specs are the same as the 10.1-incher but of course it is smaller and lighter (just over 330g). The battery deemed acceptable by Samsung for this tablet is 4,800mAh.
Logitech have you covered
Logitech has already revealed a Pro keyboard case for the new 12.2-inch tablets detailed above. Thanks to its more spacious layout, due to the bigger screen it is accompanying, the keyboard is described as a full-sized laptop one, with a dedicated row of app shortcut keys also present. This large keyboard/case/cover has a recommended price of US$130.