A tough new tablet has been added to Panasonic's Toughpad lineup, announced at the CES 2014. The Toughpad FZ-M1 is a fully-rugged tablet featuring a 7-inch display and it is the smallest and lightest Windows Toughpad yet.
The FZ-M1 is 17.8mm thick and weighs 545g. Although this may seem much heavier and thicker than other small tablets out there, the machine is certified to meet MIL-STD-810G and ANSI 12. 12. 1. (it is certified for use in incendiary environments) specifications. Panasonic says it is "built to enable mission-critical mobile worker productivity without compromise." It can withstand a good degree of shock, vibration, water, dust and dropping from heights up to 120cm.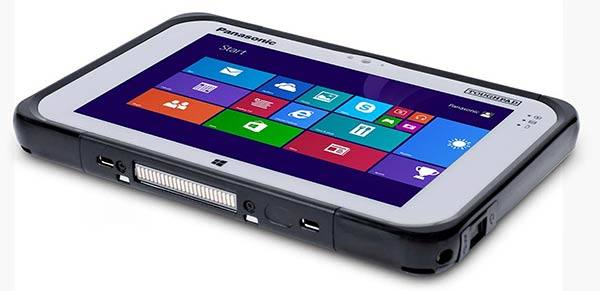 The tablet is powered by a fanless Intel Core i5-4302Y vPro processor paired with 8GB of DDR3L RAM. The 128GB or 256GB SSD can be heated in cold environments. The screen is a 7-inch high brightness WXGA (1280 x 800) LED backlit IPS display. Pixels are pushed around using an Intel HD graphics 4200 video controller. You can use the touchscreen while wearing gloves.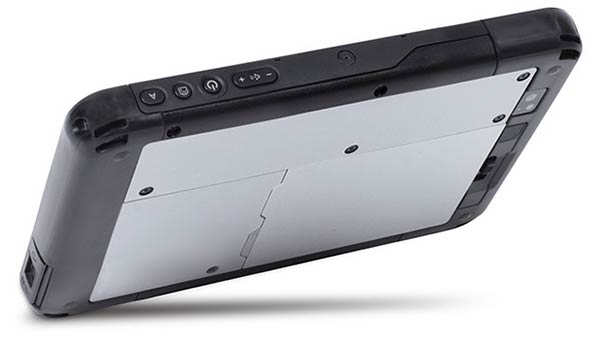 The FZ-M1 boasts a battery life of up to 8 hours with an optional high capacity battery available doubling the battery life to 16 hours. There is also a microSD card slot, USB 3.0, Bluetooth 4.0, a 720p front-facing camera with microphone and a 5 megapixel rear-facing camera with LED light.
The tablet will come in different configurations, including an option to add 4G LTE connectivity and cheaper model with an Intel Celeron processor. Versions are available with Windows 8.1 Pro or Windows 7 Professional.
Prices for the FZ-M1 will start from $2,099 (around £1,280 though UK pricing not yet available) and the tablet will come with a 3-year warranty which is not very often provided. It will become available from early spring.
ToughPad 4K
U.S availability of the Toughpad 4K UT-MA6, revealed last year, as the first ever 20-inch 4K tablet, has been announced by Panasonic at CES.
The 20-inch tablet features specifications up to an Intel Core i7-3687U vPro processor with an NVIDIA Quadro K1000M GPU, it will run Windows 8.1 Pro (with optional Windows 7 Professional downgrade) and provide users with lifelike viewing experience with the beyond Ultra HD 4K (3840 x 2560 pixels) display. Being a Toughpad, it is also resistant to 30cm drops from many angles and 76cm drops onto its back. (does toast even land butter side up?) This large Toughpad is just 1.27cm thick and weighs just over 2.5Kg.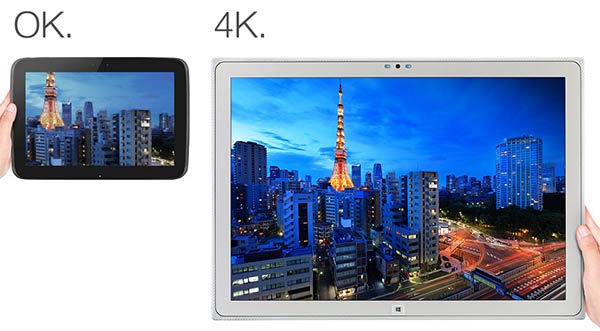 "Professionals in visual-intensive fields such as CAD and non-linear editing have traditionally been stuck working behind a desk away from where decisions are being made, due to a lack of mobile technology on the market with the large, high-quality displays and high-performance processors these users require," said director of product management, Panasonic System Communications Company of North America, Kyp Walls. "As a lightweight 20-inch tablet PC with beyond Ultra HD resolution and high-performance processing power, the Toughpad 4K performance model enables these workers to get things done in the field that previously were only practical at a desktop workstation, greatly expanding productivity, creativity and efficiency in a number of areas."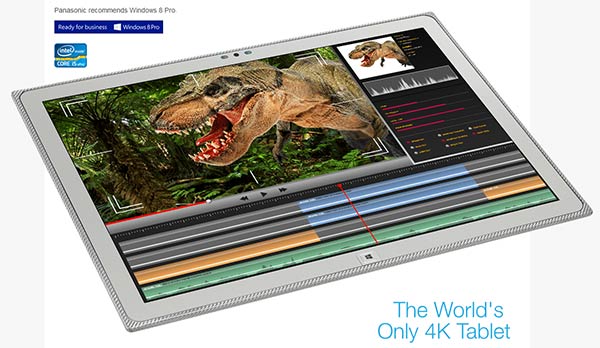 The Toughpad 4K will be available in the U.S in Feburary 2014 from $5,999 depending on configuration. This tablet also comes with a comprehensive 3 year warranty.