Amazon has launched the new Kindle Fire HDX and Kindle Fire HDX 8.9 in the UK. These two new tablets were launched only three weeks ago in the US. The two new 'high end' targeted tablets will be priced from £199 for the 7-inch 1920 x 1200 (323ppi) Kindle Fire HDX and from £329 for the 8.9-inch 2560 x 1600 (339ppi) Kindle Fire HDX 8.9. Both the HDX tablets are powered by a 2.2GHz Qualcomm Snapdragon 800 quad-core processor paired with 2GB of RAM and Amazon Fire OS 3.0. Meanwhile Amazon has also launched an "all-new Kindle Fire HD" which is boasts 66 per cent more pixels, is slimmer, lighter and has a better sound system than the previous Kindle Fire HD model. Its price is £119, competing directly in the UK with the latest tablets from Tesco and Argos.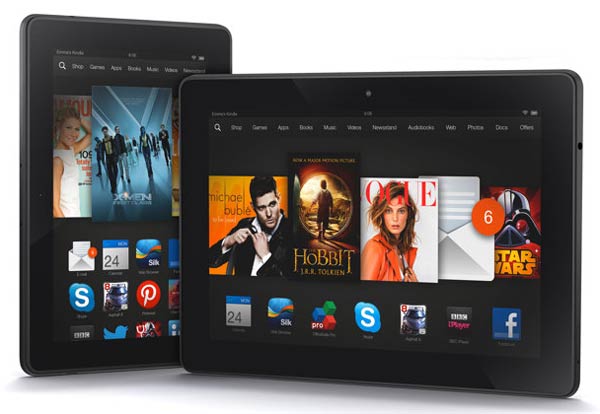 A letter from Amazon boss Jeff Bezos explained talked up the new tablet releases coming to the UK today. He said that the new Kindle HDX models "are powerhouse tablets". Bezos boasted of the high specs on offer; "We added the latest graphics engine, doubled the memory and tripled the processing power with the most advanced 2.2 GHz quad-core processor. Our HDX displays bring together exceptional pixel density (up to 339 ppi), perfect 100% sRGB colour accuracy, improved brightness and dynamic image contrast. You also get up to 11 hours of battery life—17 hours when you're reading."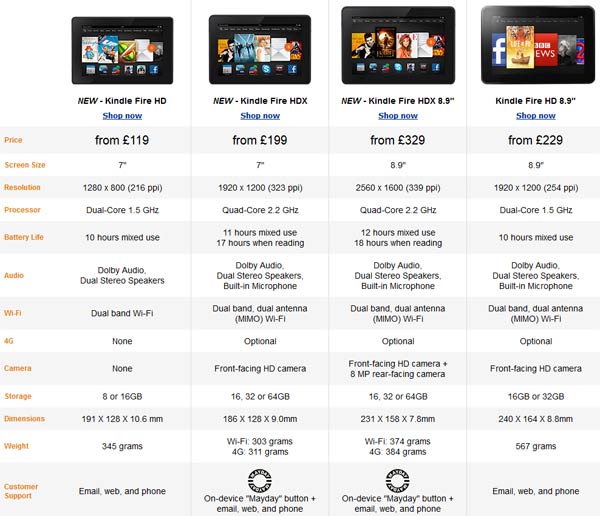 To keep the Kindle Fire HDX 8.9 light (the largest of today's newly released tablets), Amazon's designers used a new magnesium unibody and moulded glass-nylon alloy. For a large tablet it is remarkably light at only 374g (which is 34 per cent lighter tablet than the Kindle Fire HD 8.9).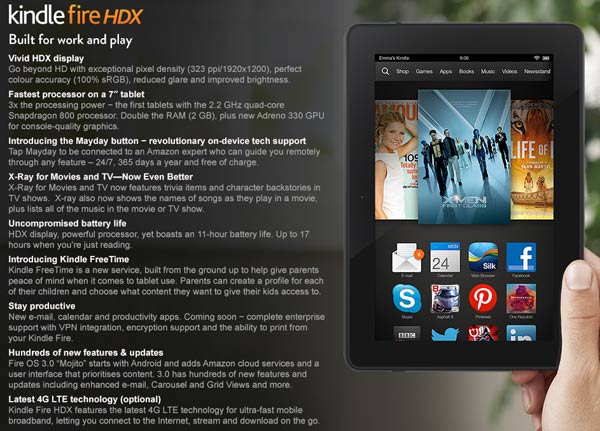 Bezos also optimistically tries to position the Kindle Fire HDX tablets as devices "built for work and play". The reasoning is that Amazon has included "new e-mail and calendar support as well as built-in OfficeSuite". In addition you have connectivity options which include Wi-Fi and 4G LTE.
The Mayday help functionality is also available to UK users for free 24x7, 365 days a year. This could be a very useful and friendly option for tablet novices as long as their problem doesn't prevent them accessing the internet to talk with an "Amazon expert".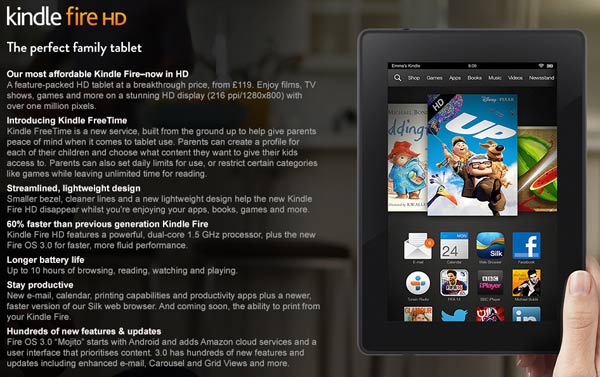 Last but not least Amazon has re-jigged the competitively priced Kindle Fire HD. The update provides this entry level colour tablet with "the same display quality and processing speed of last year's high-end models," says Amazon. The processor has been pepped up from 1.2GHz to 1.5GHz and the tablet is also thinner, lighter and includes a better sound system than before to help you enjoy your downloaded media. Amazon's latest Kindle Fire HD faces new competition from the likes of other budget UK-resident Android-based 7-inchers; the Tesco Hudl and Argos MyTablet.