A number of tech websites have managed to get some hands-on time to paw over Intel's new Studybook tablet. The tablet is a reference design; Intel won't be manufacturing them itself, much like the previous Intel Classmate PC project (7 million sold).
What is the Studybook? It's a built-for-education tablet, to help facilitate 1:1 learning. Below is the spec, which as you can see is quite customisable and should enable some models to come in under the $200 mark.
Intel Studybook specification

Intel Atom Z650 Oak Trail CPU @ 1.2GHz, TDP of 3W
1Gb RAM (up to 2Gb)
4Gb solid state storage (up to 32Gb)
Android 3.0 or Windows 7 (current choices)
7 inch 1024x600 touch screen
Splash proof
Shock absorbent upto 70cm onto concrete
Wi-Fi 802.11b/g/n (optional 3G SIM slot)
Front and rear facing camera options
1 x USB port, SD card slot and optional HDMI
Special software was installed on the Android test example for e-book reading, note taking and drawing. Plus software using the camera; digital microscopy (with adapter lens), time lapse and motion activated capture.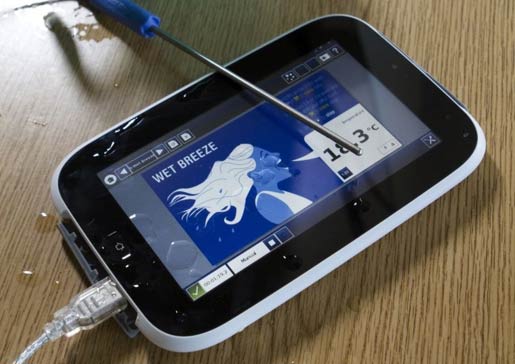 Intel Studybook with USB temperature probe attached
The impressions from using the purpose-built for education tablet are overwhelmingly positive. ZDNet declare that "Intel has hit a home run with its Studybook." The reviewer says that the tablet hasn't been made because of a current trend or fashion for tablets but that the form factor is genuinely useful for school students. He says "It can, in fact, do things that notebooks, netbooks, and other computing devices simply can't." However nowhere in the article are there details of these exclusive abilities. Intel definitely bought him a great lunch.
Initial reaction to the Studybook was more matter-of-fact at PCMag who said: "In our brief time with an Android Studybook, the ruggedized tablet felt a tad heavy at 1.2 pounds but the screen was bright and sharp, with black bezels leaving ample room for young thumbs. Loading and switching among apps felt sufficiently snappy, and sound through the tablet's speaker was clear if a bit tinny. We anticipate kids prying the gaskets or port covers off the device."
Over at Gizmodo Australia they were pretty happy with their hands-on session, particularly the tablet performance and custom webcam apps: "We demoed a few different programs running on an Android version of the tablet, and the results were pretty impressive. While using a textbook e-reader application, performance was pretty snappy for a $US200 tablet. There wasn't any overwhelming or distracting lag when scrolling or swiping through pages. The Intel Learning Series LabCam was similarly impressive. This application allows you to replicate many of the science lab work that would usually require very expensive tools." Also on the overall sturdiness of the tablet; "If the kids who do get it in their hands on the new Intel Studybook manage to drop it, it'll survive: The specs say it can survive a 27-inch drop, but based on the sturdiness of the construction, I suspect it could do even better than that. All of the tablets I/O ports have gaskets and are covered with a tough rubber so that when they're covered up it can survive some underwater submersion."
iPad competition
This built-for-education tablet is a lot cheaper than the popular Apple iPad and it will be able to run Android or Windows software. (Android version was tested). Performance and durability seem to be good, very important factors in schools. The extra connectivity and standard ports are a bonus over the iPad too, especially the standard USB connector which can allow other scientific instruments to be attached. For example a temperature probe is attached to the tablet in the photo above.
These tablets are only going to be available to schools, so you can't really get your hands on one, if you felt that way inclined. Windows 8 is a possibility in the future of this tablet and may work well – but it's a possibility that could add quite a bit more to the price.