Samsung has launched a powerful new tablet as it continues to seek to disturb Apple's iPad hegemony at the premium end of the market. The new Samsung Galaxy Tab S6 certainly has some attractive features to set it apart from rival tablets but its pricing reportedly starts from approx US$650.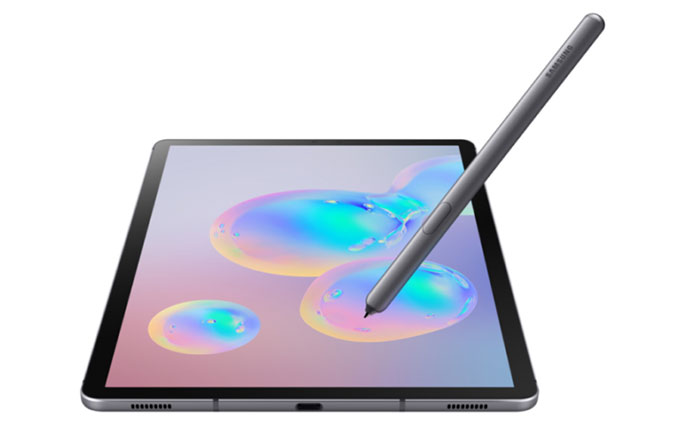 The key attractions of the Samsung Galaxy Tab S6 are probably its large colourful screen, the powerful mobile SoC inside, its slim construction, Samsung DeX, and the inclusion of the S Pen and the functionality that opens up. With this tech at their disposal users will benefit from creativity and productivity, plus "uncompromised entertainment" on the go, reckons Samsung.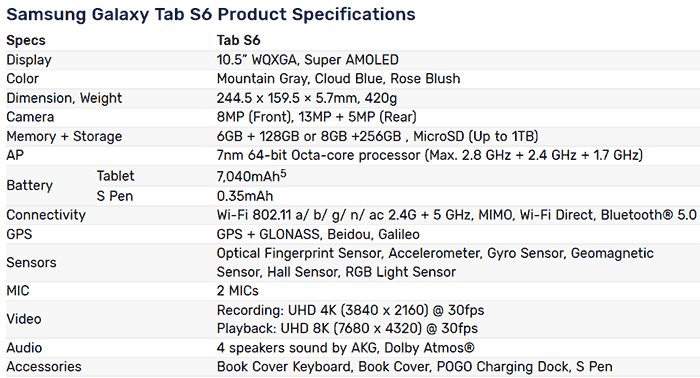 Above I have reproduced a screenshot of the Galaxy Tab S6 specs for quick reference. Though it isn't stated by Samsung in the press release, the 7nm 64-bit Octa-core processor is a Qualcomm Snapdragon 855, as seen in many a flagship smartphone. This processor is joined by 6GB + 128GB or 8GB +256GB (RAM + Storage) and SD card expandability, depending upon how much you want to spend.
The appealing screen is partnered with quad speaker sound by AKG and Dolby Atmos to provide a good media consumption experience. If you wish to enjoy some cutting edge tablet gaming Samsung has implemented its Game Booster tech with AI capabilities to enhance the gaming experience through optimised FPS, screen lag, loading time and more. Built-under the screen is a fingerprint reader and Samsung says it combines nicely with the double-tap screen to wake feature.
Creatives may appreciate that Samsung has for the first time fitted a dual camera system to one of its tablets (13MP + 5MP). Meanwhile the front appears to offer a respectable 5MP web-cam experience in chats etc. Samsung utilises a Neural Processing Unit to make sure your photos are up to scratch.
Another important aspect of the new tablet is its included S Pen. This particular stylus uses built-in BLE remote control features, including a gesture function called S Pen Air actions. Samsung predicts its remote control possibilities will be popular as a remote camera shutter, or for controlling media playback when the device isn't within easy reach. Yes, the new S Pen includes its own battery that needs charging, but inserting it in the silo will provide 10 hrs of usage after just 10 mins.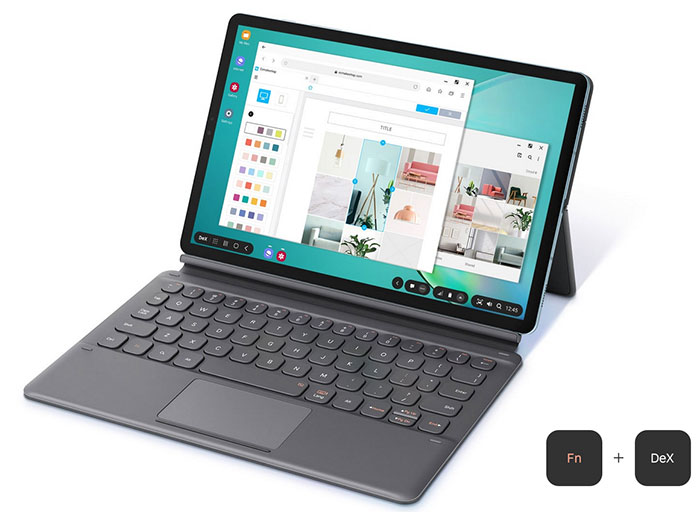 Staying on the topic of productivity Samsung boasts of a new-and-improved version of Samsung DeX to deliver a PC-like experience when all you have is your tablet at hand. DeX comes into its own with the Galaxy Tab S6's new dedicated Book Cover Keyboard (sold separately). The keyboard accessory includes a dedicated DeX key, and has been tuned for better functionality, including an S Pen holder, free angle stand, touch pad and new function keys. If you need a bigger screen Samsung says you can connect one up with an HDMI cable.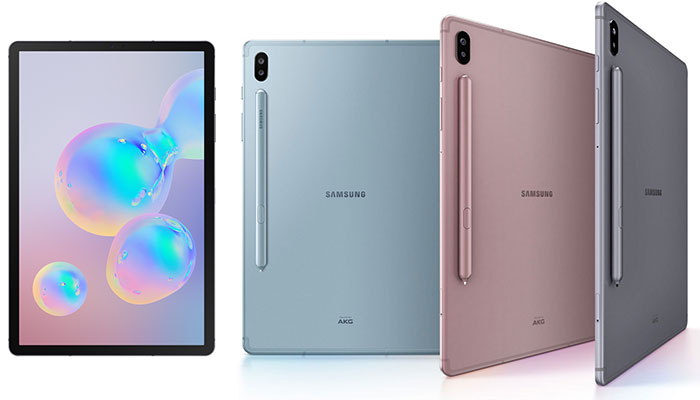 Samsung is supplying its new Galaxy Tab S6 in a choice of Mountain Gray, Cloud Blue and Rose Blush colours. This 244.5 x 159.5 × 5.7mm, 420g tablet will be available from late August in select markets. Later in the year Samsung intends to launch a 4G LTE capable model.