UK MVNO GiffGaff recently doubled up the data on its £20 goodybag to 40GB. As a refresher, this mobile network, which piggybacks on O2, allows people to buy various sized goodybags as and when they feel the need. Goodybags provide a chunk of data/minutes/texts and last one month - but between them you can use deposited credit like a with a traditional regular PAYG SIM plan (which is pretty competitive for international calling).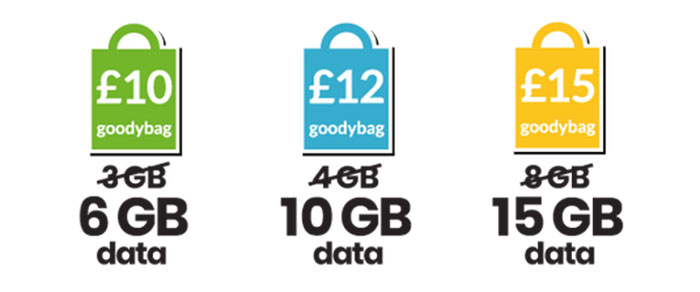 Yesterday GiffGaff updated some of its most popular goodybags with double the data. From now it means that if you buy the £10 goodybag you will get 6GB data allowance, plus unlimited minutes and texts. A £12 goodybag delivers 10GB, and £15 nets you 15GB - all with unlimited minutes and texts of course. Adding some complication to the mix, after you have bought 3 goodybags via your account you will get a automatic 1GB bonus on all these goodybags.
As a GiffGaff user - I use it in my dual-SIM smartphone alongside a monthly contract SIM - I had been thinking that GiffGaff's goodybags had started to lose their appeal. New entrants like VOXI and Smarty, as well as more competitive offers from other players made goodybags seem a bit expensive in recent months. Now I think it has just done enough to stay relevant and not get thrown out of my second SIM slot. Of course it also helps, for coverage, if your other SIM isn't from an MVNO using the O2 network (or directly from O2).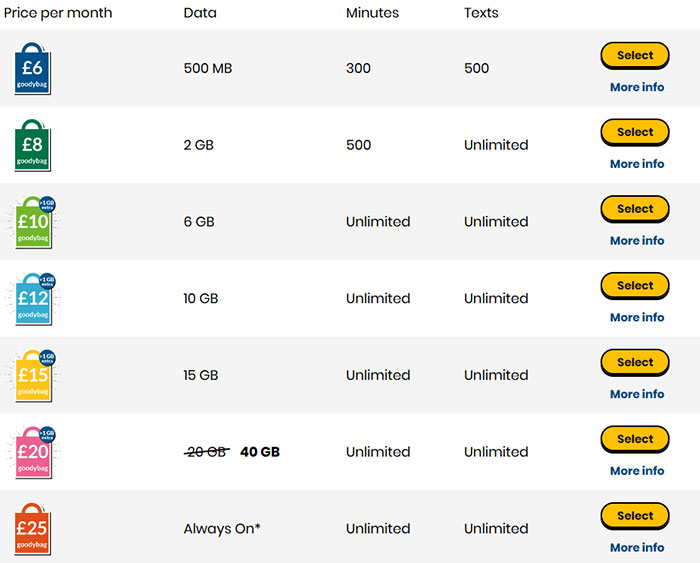 Looking at GiffGaff's new pricing matrix for goodybags it seems that the lowest £6 needs a bit of a boost. This purchase will only furnish you with 500MB data, 300 mins and 500 texts but might be enough for a quiet month when you mostly have access to home Wi-Fi.