Just 48 hours after the unveiling of the Samsung Galaxy S5 smartphone, Chinese device maker Goophone has shamelessly copied Samsung's design and launched the Goophone S5.
The Goophone S5 is a $299 handset which is a near exact clone of Samsung's S5 on the outside, as you can see in the image below, but packs rather different hardware under the hood. The specs are respectable considering the price tag, it's even powered by an Octa-core chip; a 2GHz Octa-core MediaTek MT6592 Soc with Mali450 GPU (rather than an Exynos Octa-core or Snapdragon 801 SoC).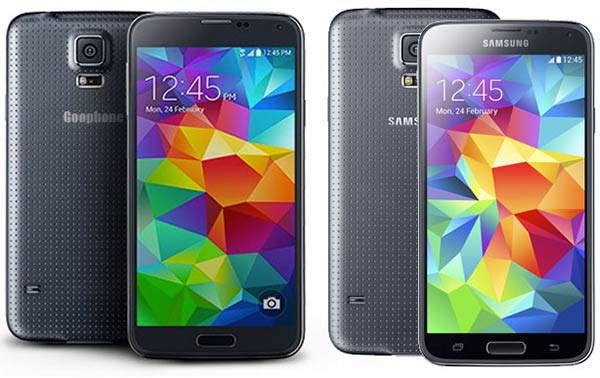 Other specs seem to shadow the Galaxy S5 pretty closely:
5-inch 1080p display of unspecified type
2GHz MTK MT6592 Octa-core processor, GPU: ARM Mali450-MP4
2GB of RAM
32GB of internal storage + microSD card
13 megapixel main camera, 5 megapixel front camera, LED flash
Dual-SIM
GSM, WCDMA (HSUPA, HSDPA). GSM: 850/900/1800/1900MHz WCDMA: 850/2100MHz
2,800mAh battery
Android 4.2 OS
Google Play Store access, unlocked
Size and weight not given
Matching raw spec numbers doesn't always translate to equal quality, as many gadget fans will know. The Goophone 13MP camera could easily be worse than some lower megapixel units, the 5-inch 1080p display probably isn't an AMOLED panel and how many people have been disappointed by no-name replacement batteries with high mAh ratings... Other differences include: there is no fingerprint scanner or biometric home button included and the device will sport an out-of-date Android 4.2 OS.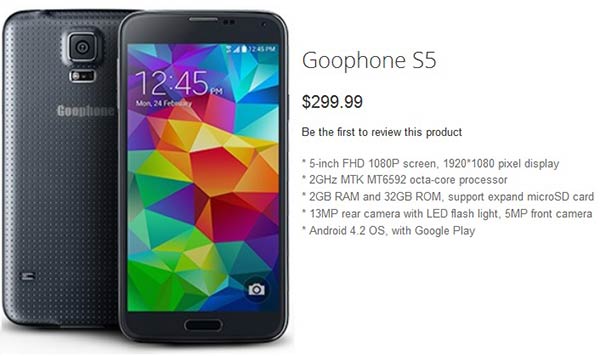 Build quality is also expected to be worse than the real deal, but for those who can't afford a Samsung Galaxy S5, the Goophone S5 may not be such a bad option as it could be a pretty decent phone, if the numbers tally with the performance. Unfortunately no information is given as to when the Goophone will start its shipments as it is currently marked as "out of stock" on the website. Perhaps the first batch sold out already.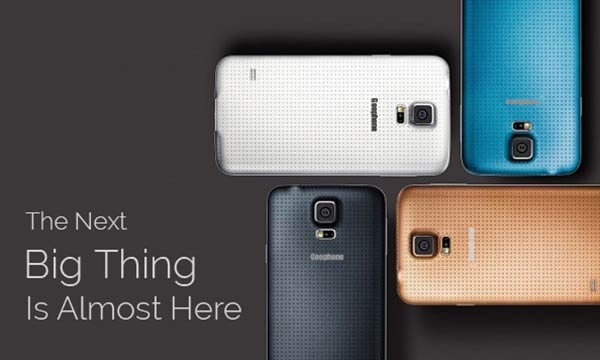 Goophone has a reputation of being fast to build smartphone copies, previously hurrying out smartphones 'inspired by' the Galaxy S4, iPhone 4S, and iPhone 5. As mentioned by Geek, the Chinese copycat company even managed to release and patent its iPhone 5S clone before the genuine article was launched thanks to drawing 'inspiration' from various leaked designs and imagery.