On Monday Bump announced that it had been acquired by Google. No financial details from the deal were shared by either Google or Bump. However sources speaking to the New York Times said that Google paid around US$40 million for the file transfer technologies company.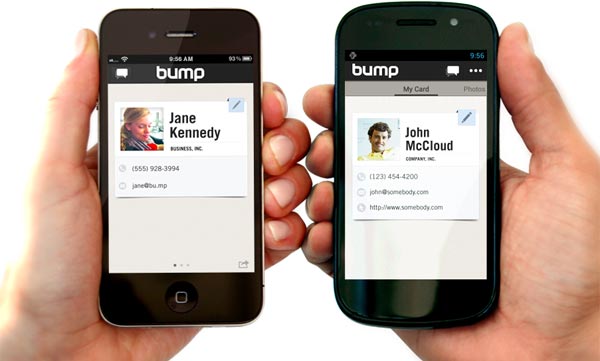 Bump technologies created software to facilitate wire-free data sharing between two local devices. The Bump mobile app can wirelessly transfer files, photos and contacts between two devices as you 'bump' them together. Also a mobile device running the Bump app can transfer file to and from a PC, which has the bump website open, by simply bumping the PC keyboard space bar.
Bump doesn't make a direct connection to the other device using Wi-Fi, Bluetooth, or NFC but sends files to the cloud. The software takes care of the pairing and the other device then downloads the correct file. It is thought that Apple's AirDrop for OS X, soon to appear in iOS7, works in a similar way.
Writing on the Bump Blog, Bump CEO and cofounder David Leib, said that he was thrilled about the possibilities ahead as the company joined Google. He repeated the Bump mission statement; "to build the simplest tools for sharing the information you care about with other people and devices." Furthermore, he stated "We strive to create experiences that feel like magic, enabled behind the scene with innovations in math, data processing, and algorithms". Leib added that Bump won't change in the way it works "for now" suggesting big changes ahead.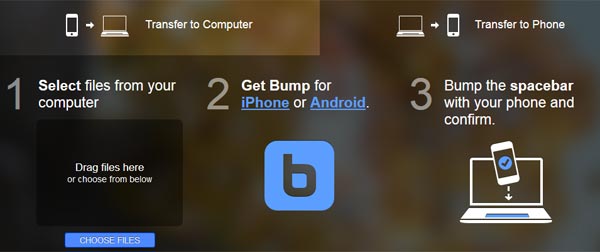 The NYT reports that Bump has had quite a history, dating back to 2008 when it demonstrated an app to allow people to bump phones to exchange business cards. Since that time Bump has tried various strategies such as becoming a social network and then a more general file sharing service. The NYT also says that Bump appeals to Google as it is simple in design and function and it doesn't require an NFC chip to be equipped.
Bump also makes an app called 'Flock' which lets people combine photos from multiple devices into shared photo albums. Flock uses metadata such as picture location and date to sort shared photos for groups and is expected to be a good fit for Google+.