At the annual BlackBerry Live conference in Orlando, Florida it was announced that BlackBerry Messenger (BBM) would be released for iOS and Android devices this summer (subject to approval by Google Play and the Apple App Store, as applicable). This is seen as a bold move as it abandons the platform exclusivity, which was thought to have been key to customer loyalty, by sharing what was often thought of as among the company's crown jewels.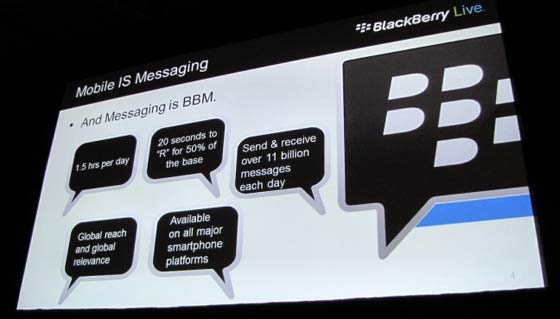 BlackBerry software vice president Andrew Bocking announced the move; "the time is definitely right for BBM to become a multi-platform mobile service. BBM has always been one of the most engaging services for BlackBerry customers, enabling them to easily connect while maintaining a valued level of personal privacy. We're excited to offer iOS and Android users the possibility to join the BBM community."
The BlackBerry Messenger app will be free and available to iOS v6 or higher and Android v4 or higher device users. The app on these rival platforms will be able to take part in BBM chats, including multi-person chat sessions, engage in BBM Groups and share photos and voice notes. There was no indication whether a Windows Phone version would be made available.
Putting a predictably positive spin on things BlackBerry CEO Thorsten Heins called the move "a statement of confidence". However the move could easily be interpreted in much less positive ways. The mobile instant messaging business is huge and seems to be growing at a pace; recently such messages eclipsed the use of SMS. BBM currently has over 60 million monthly active users but established multi-platform rivals such as WhatsApp and WeChat both claim to have around 200 million unique monthly users.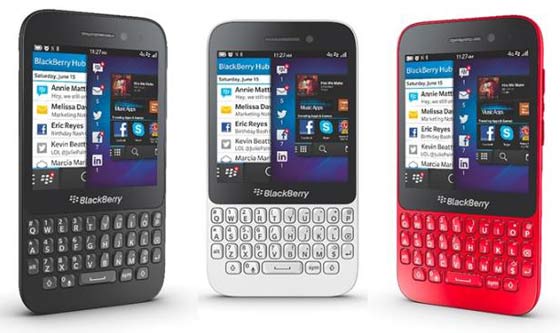 BB10 OS update and a new budget Q5 handset
As well as the headlining BBM news, the BlackBerry management also announced a minor update to the BB10 operating system called BB 10.1 – to be rolled out over the next week. Also a new lower-end smartphone aimed at emerging markets was revealed. The BlackBerry Q5 is a QWERTY smartphone running BB10 and will be available in black, white and red variants, as pictured above.