BlackBerry launched its long-awaited 'Classic' yesterday, a "no-nonsense" smartphone the company hopes to use as a last-ditch effort to win back market share and its old-school keyboard loyalists, reports the BBC. The device will sport a full QWERTY keyboard, the "tool belt" trackpad and dedicated answer call, end call, menu and back keys. Its design largely resembles BlackBerry's once wildly popular Bold and Curve handsets which made the company a market leader before it was overtaken by smartphone touchscreen-input-only rivals.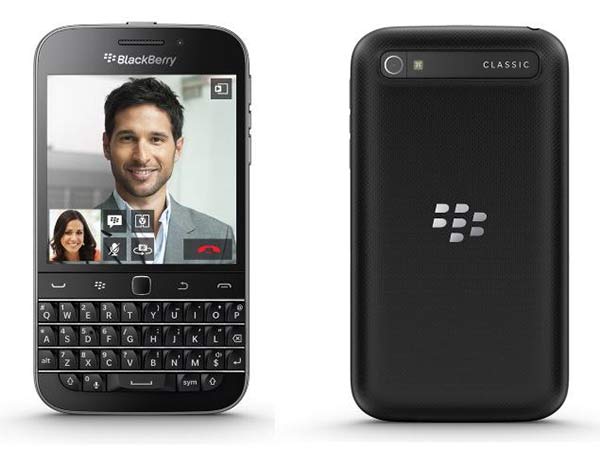 The Classic will feature a 3.5-inch touch screen, in addition to 'long' battery life, access to Amazon's Android App store, a more fluid UI compared to when the company first introduced its BlackBerry OS 10, and a browser three times faster than the one on its legacy devices.
BlackBerry is said to be going "back to its roots" at a time when most OEMs and smartphone customers have embraced touch screen handsets, in a bid to appeal to business users, its core customers. The company commanded a nearly 50 per cent market share in the US as recently as 2009, though its delay in overhauling its OS and hardware to compete with rivals has left it to only holding a small fraction of the smartphone market now. Nevertheless, the classic BlackBerry design has always held a device category all of its own, and no doubt some users are still longing for that familiarity.
Under the hood, the Classic is powered by a dual-core 1.5GHz Qualcomm Snapdragon CPU, 2GB of RAM, 16GB of storage which is expandable via microSD up to 128GB, and G/LTE, Wi-Fi 802.11 a/b/g/n and Bluetooth 4 LE connectivity options. Its 294ppi display is far less sharp than the 453ppi of the Passport, but the company places emphasis on battery life and security of the device.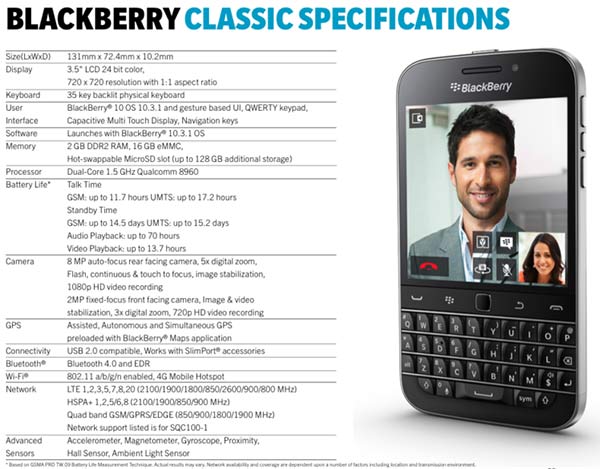 "The conversation about BlackBerry has changed in the last year," Chief Executive John Chen said during the launch event of the Classic, at Manhattan's upscale Cipriani restaurant. "We are here to stay, there is no question about that. Now we have to engineer our growth."
However, there are voices of concern over the firm's tactics, suggesting that while it would help retain business, it may not necessarily attract new users. "This is more about avoiding more people leaving than necessarily winning many over," said Carolina Milanesi, an analyst for Kantar Worldpanel. "I have a hard time thinking that people who grew up on touch[screens] will see this as an exciting 'retro' trend and embrace it."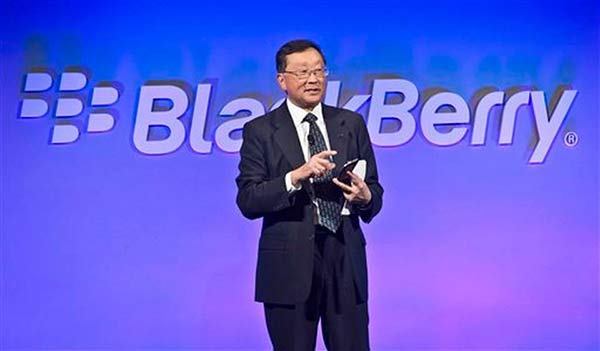 "I invite a lot of people who haven't used BlackBerry before to have a try at it," Chen said, in a way acknowledging that the device's main intentions are to cater to diehard BlackBerry users. "I think you'll like it and be surprised by it."
2014 has been challenging for BlackBerry, though after significant cost-cutting and thus higher profit margins, it has been able to overcome a drop in revenues to post a profit of $23m (£14m) for the three months to the end of March 2014. It also launched and impressed with the BlackBerry Passport recently, showing strides in the right direction of recovery.
The Classic is on sale and available now on Amazon and BlackBerry's website. Canadian carriers Rogers, Telus and Bell will also hold limited stock before Christmas, whilst major US carriers Verizon and AT&T will be getting the handset shortly afterwards.