Remember this leaked photo, allegedly of the upcoming BlackBerry London smartphone? Rumoured to be the first handset to run Research In Motion's (RIM) new BlackBerry 10 QNX-based operating system (previously known as BBX,) a picture of the phone appeared online last November showcasing a black and silver angular design similar to the BlackBerry Porsche Design P'9981.

Well, a brand new photo has now emerged showing that the new smartphone may have a totally different design than expected. This internal slide, courtesy of CrackBerry, reveals that BlackBerry London will look more like a mini version of the company's failed PlayBook tablet, with a matte black slim design similar to many Android phones.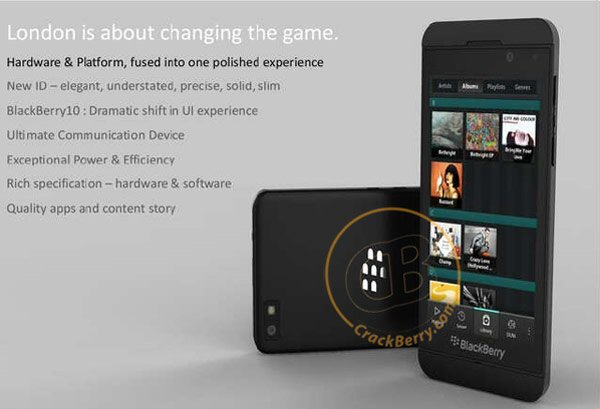 The slide claims that BlackBerry London will offer a "dramatic shift in the UI experience" boast "exceptional power and efficiency" and will be the "ultimate communication device." Personally, we preferred the more stylish Porsche Design, but it looks like RIM may be playing it safe and opting for a more traditional design that will have mass appeal. Can we really blame it?

A leaked roadmap recently revealed that RIM plans on launching BlackBerry London around September or October time. Though nothing is currently known about the phone's technical specifications, it's believed to sport a touchscreen rather than the QWERTY keyboard we've become accustomed to on other Blackberry handsets, indicating RIM's intentions to finally compete against Android and iOS phones.

What do you think of this latest design? Do you think RIM is onto a winner?