Sony is teasing the reveal of an upcoming smartphone, codenamed 'Honami', but which may actually be released as part of the Xperia range with a letter/digit name such as Z1 or i1. The teaser we get of this new handset is focussed upon the back of the smartphone, featuring the main camera lens in particular. In related news a leaked photo of a smartphone purported to be of the 'Honami Mini' has surfaced this weekend. This demonstrates the strong trend of a big/mini flagship handset release strategy in the Android market. If rumours are correct though, Sony hasn't trimmed much but the screen size and battery capacity to make its mini.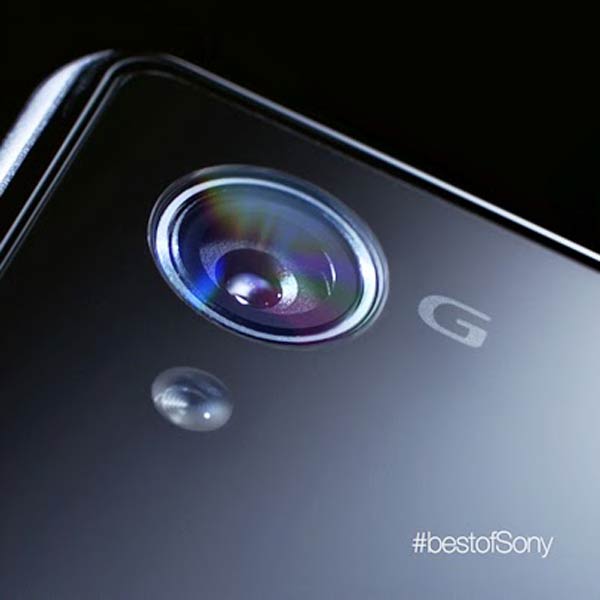 Sony's new 'Honami' teaser is headlined "Have we captured your attention yet...? #bestofSony". Captured is an obvious reference to photography and we can see in the photo above the large Sony 'G' lens with a flash unit beneath it. The camera assembly sits near a corner of the handset. This is the first time Sony has teased this aspect of the 'Honami'. High quality imaging is supposed to be one of the main selling points of the phone when it becomes available.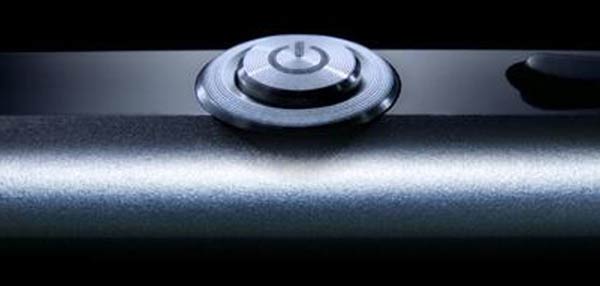 Hardware specification leak:
Display - 5-inches, full-HD, TRILUMINOUS display with X-Reality technology
Processor - Snapdragon 800 quad-core at 2.2GHz
Cameras - 20.7 megapixel using ExmorRS sensor, G-Lens and Bionz processing, 2 megapixel front camera
RAM - 2GB
Storage - 16GB built-in plus micro-SD card slot
Connectivity - 4G/LTE, NFC, MHL for HDMI output through micro-USB, IPX5/7, and Wi-Fi and Miracast.
Battery - 3,000mAh
OS - Android Jelly Bean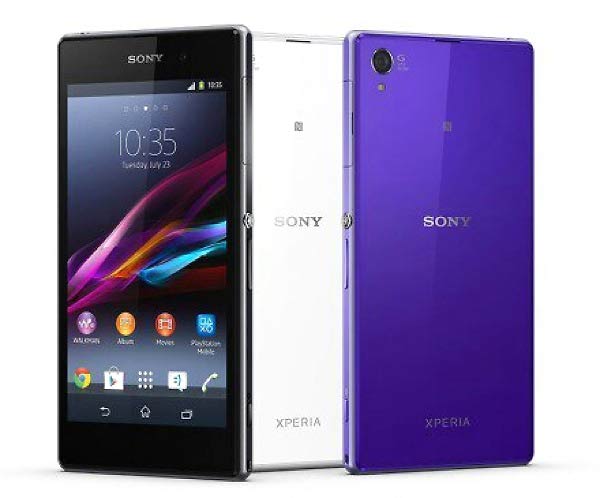 HTC's and Samsung's mini device launches have lagged their big brothers by some time but we have already seen a 'Honami' mini, so it seems. Slashgear published a picture of the new mini Sony handset next to a BlackBerry device of known dimensions so it was easy to calculate how mini the 'Honami mini' will be. Based on these pixel to mm measurements the new Sony mini phone will be about 58mm wide and 110mm tall.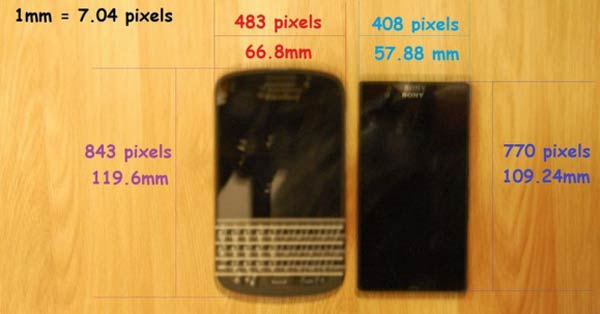 Honami mini side by side with a BlackBerry
Despite the 'Honami Mini's stature, looking at the early rumours of its spec it seems like the internals haven't been scaled back as much as the minis made by rivals HTC and Samsung. The early spec rumours say Sony's smaller Honami also sports a Snapdragon 800 quad-core, 2GB of RAM and 20.7 megapixel camera but is only shrunk in spec with respect to the display, down to 4.3-inches, and the battery, down to 2,400mAh. That might be a good move as many people previously voiced disappointment with HTC's and Samsung's mini-flagship specifications when they were announced.
The IFA show in Berlin in early September is looking to be an exciting event for smartphone fans and a few days after that event kicks off we are expecting to see Apple's latest new iPhones revealed with gold, plastic and gun-metal finishes.