Mozilla has released a new version of the popular Firefox browser for the Android platform. "Want a fast, smart, & safe mobile browser? Get the official Firefox web browser!" says the Firefox for Android Google Play page. Up until now hundreds of millions of people using Android on ARM v6 powered smartphones were excluded from installing Firefox, it required ARM v7 or better. Now that has changed and "millions more" will be able to use Firefox, according to the Mozilla Blog.
On my desktop PC Firefox is my primary browser so I was glad to hear, way back, when the Firefox browser was about to be released for Android. Unfortunately my Android phone was too old and couldn't be updated so I never installed it; I just carried on using the vulnerable old stock browser until about two months ago when I got a new smartphone. Now there is hope for people who own older or economy Android handsets.
About 250 million ARM v6 powered Android phones are out there
The Mozilla Blog says that "At Mozilla, our mission is to bring the Web to as many people as we can. Given that roughly half of the nearly 500 million Android phones in use today run on ARMv6 architecture, this is an important step toward making the open Web free to all." This move will let users of smartphones such as the "HTC Status, HTC ChaCha, Samsung Galaxy Ace, Motorola Fire XT and LG Optimus Q" install and use the Firefox browser.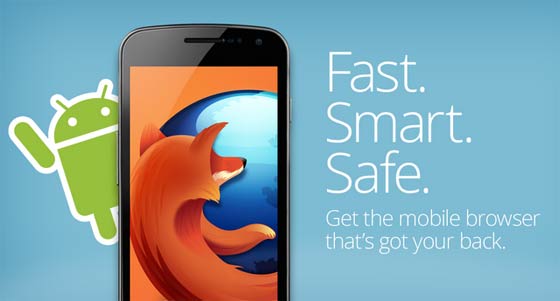 Highlights of the improvements to Firefox for Android in this release are:
Support for Android ARMv6 phones with at least an 800MHz processor and a minimum of 512MB of available RAM
Android (ICS/Jellybean) support for hardware and software decoding of H.264/AAC/MP3 audio and video
Jellybean support for Explore by Touch
Fixed: Android 4.2 instability, Text deletion issues
You can see from the release notes that there are still a few spec requirements that will keep some lower end phones from being able to install Firefox for Android. However even though Mozilla spec a minimum 512MB of RAM, the blog says that the Samsung Galaxy Ace, equipped with just 384MB, is compatible. It would be interesting to know which other borderline budget handsets can download and install the updated Firefox. For instance I know that the HTC Wildfire S is a very popular budget handset and now meets all the Mozilla Firefox specifications except for the CPU speed; its ARM v6 CPU is only 600MHz.
If you are interested in trying the new Firefox Browser for Android you can get it here.