Motorola has quietly introduced a new Turbo Charger, as an accessory for the Moto X (2nd Gen) that we first saw last week. The super-fast charger is said charge the mobile device's battery 75 per cent faster than conventional chargers, promising an 8 hour battery life top-up in just 15 minutes.
The charger achieves this feat by utilising Qualcomm's Quick Charge 2.0 technology, which is integrated into some Snapdragon-powered devices, and of course, the new Moto X is also Quick Charge 2.0-enabled. Other devices including the HTC One M8 and Sony Xperia Z2 have launched with the technology too.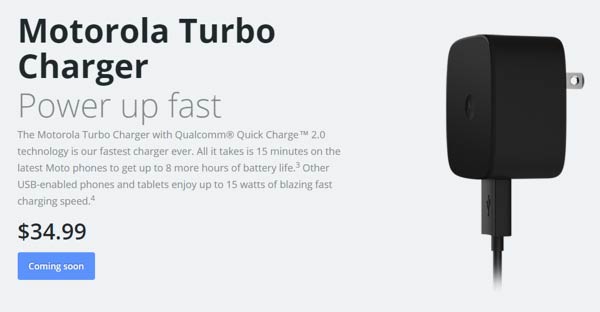 The Quick Charge 2.0 capable Turbo Charger has an output of up to 15 watts. Due to it being a microUSB wall charger, you can use it to charge up your non-Quick Charge 2.0 devices too. You just won't experience the same speedy charging, that's all.
Headline 8 hours of battery life from a 15 minute charge figure requires an almost depleted battery
Although Motorola says that it only takes the new Moto X 15 minutes to gain an extra 8 hours of battery life, this quick boost in battery only works when the device is "substantially depleted", according to the fine print. This highlights the fact that charging rates actually slow down as the charging progresses and a battery approaches full capacity, a common scientific phenomena.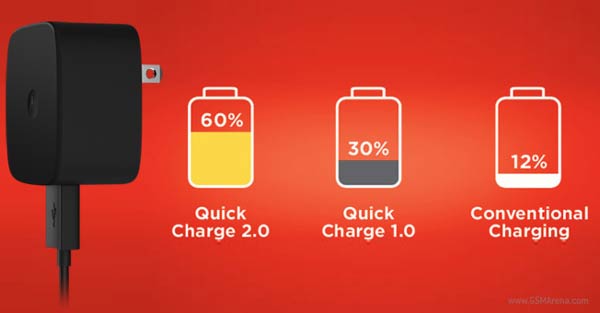 The eight hour claim also only applies to Motorola devices with Quick-Charge 2.0 support, and includes both "usage and standby time". That pretty much means that you will probably not get a real world usage of anywhere near 8 hours from your brief 15 minutes of wall-wart-suckling.
If you often forget to charge your (compatible) phone, and are always in a mad rush, this could be the charger for you. The charging device is 'coming soon', priced at $34.99. It will be sold separately to the new Moto X as an add-on during your Moto Maker configuration.