What's it about?
Guide a monkey around a series of increasingly difficult obstacle courses by tilting the locations with your balance board/Wii-mote without falling out of your ball, picking up bananas on the way to earn extra lives. Fall off a level and you have to start again.

Review
The big new thing in this latest Monkey Ball game is its compatibility with the balance board, but it's far too over-sensitive. We spent most of our time struggling to shift our weight effectively from one side of the board to the other and then falling off the levels and having to re-start them from scratch -- that isn't actually a lot of fun.

Put the balance board to one side though and you'll soon be enjoying some intuitive Wii-mote controls tilting it this way and that across some charming and colourful locations. Unless you're a regular player of the Monkey Ball series, however, you'll still spend a lot of time having to restart due to some incredibly challenging levels and some of the unnecessarily twitchy camera angles.

There's a lot to do, including fun mini-games such as Monkey Bowling and some very entertaining four player mini-games for all the family to get involved in. Sadly though, Step & Roll doesn't really do the popular Monkey Ball name any favours at all. It's just the same old thing, and we doubt many will have the patience for its new Balance Board innovation -- a big shame.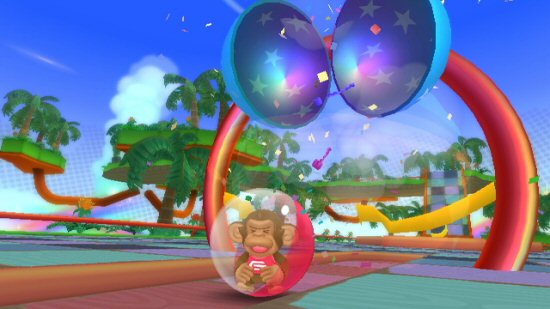 Good Points
Tons of challenging stages – 100 in fact!
Kids will enjoy the colourful visuals.
Four player Multiplayer mini-games; just pray you're the one who gets the Wii-mote and not the Balance Board!

Bad Points
Poor implementation of balance board, far too over sensitive.
Frustratingly challenging.
Twitchy camera angles can spoil the fun.