Gameplay Impressions
Gameplay Impressions
Football Manager handHeld 2010 isn't a massive leap from last year's PSP iteration with only some subtle changes here and there and tweaks to the match engine. However, the few new features do give added depth to the gameplay and offer you more choice as a manager, which ultimately improves the experience - albeit in a fairly minor way. Nevertheless, last year's title received high praise so Sport's Interactive really didn't have too much to do in order to improve on it.

The slick user interface and clear presentation make the stats easy on the eye and by using the L and R buttons, it's extremely simple to flick through the menus and search for the page you want.

The improvements to the coach and scouting reports do give you a more in-depth analysis of your players and footballers that you're searching for,so it takes some the stress out of having to do the ground work yourself. The lack of meaningful media interaction, which features in the PC version, takes a little away from the illusion of being a real-world football manager, as does the lack of audio on matchdays (we would have thought the new 2D match engine would be accompanied with crowd noise,), but as far as reflecting your tactics and choices on the pitch it seems to do its job extremely well - with players accurately responding to your tactical changes.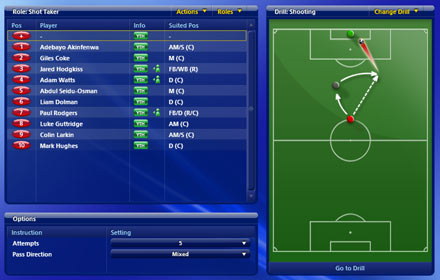 The 2D match engine does show signs of slowdown at times, such are the limitations of the PSP, but loading times don't drag on and moving in-between menus is a swift process. We've played plenty of football simulations in our time and even though Football Manager Handheld 2010 doesn't improve in leaps and bounds from last year's game, it's still deserves the accolade of being the greatest football simulation on handheld. Whether we're in bed, on the train, or even on the loo, this is one game that is undoubtedly going to accompany us wherever we go. Sports Interactive really do know how to make an addictive footy sim and this PSP version is a brilliant way to experience it without having to be at your PC.

Final Score - 9/10