What's it about?
A not-so-typical racing game featuring a range of vehicles, power-ups and colourful tracks as stars from the Sonic and SEGA universe race frantically toward the chequered flag using an arsenal of special moves to help them outwit their opponents.

Review
All-Stars Racing may have stolen its concept from the brilliant Mario Kart series, but it also brings some fresh ideas to the table, resulting in a top quality, highly enjoyable, best-played-against-friends mascot kart racing game that impresses with its creativity.

The tight and simple to pick up control scheme allows you to drift around corners with speed and relative ease, but it's the range of power-ups, special moves and the beautifully creative courses that make it so additively challenging and fun to play.

The 22-strong character roster, which includes some recognisable figure's such as Sonic and Ryu Hazuki, alongside nobody's, such as B.D. Joe and Big The Cat. is probably a little unnecessary, but at least all bases have been covered to ensure every one can play as their favourite hero from the SEGA universe. Fans of the developer will also enjoy the themed courses based on popular SEGA franchises, such as House of The Dead, Samba De Amigo and Monkey Ball.

All-Stars Racing offers a lot of variety. Brilliant track design (24 courses in total,) boasting hidden short cuts, tight-turns, hair-raising ramp jumps and surreal hazards, such as mechanical crabs, adds to the mayhem of trying to avoid being jostled out of position or attacked by some of the many weapons and items you can pick up.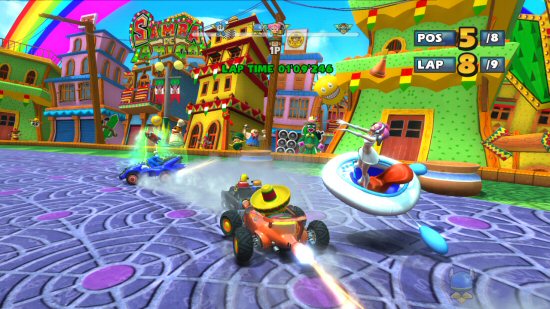 The steep difficulty curve in single player can be frustrating as you try desperately hard to avoid dropped mines or guided missiles from interrupting the flow of the race, plus some stuttering frame-rates that occasionally kick in do get a little irritating. In that respect, it doesn't quite manage to be on a par with Mario Kart, but it certainly comes in a close second place.

All-Stars Racing is accessible and fun to play with a smooth control scheme and a range of enjoyable tracks that should keep you competitively racing for some time to come -- certainly until the next Mario Kart game anyway.

Good Points
Great track design, and 24 of them! Loads of replay value.
Silky smooth controls, accessible and tight.
Eight-player online and 4-player split-screen multiplayer should keep you busy.

Bad Points
Occasional stuttering frame-rate.
Lack of game modes. Tough single player mode.