250 recipes from around the world
THE MAIN COURSE

For my first attempt at a recipe, I decided to use beef mince meat as the staple ingredient for my meal (it was what I had in the freezer at the time). I used the stylus to quickly filter through the ingredients on the touch-screen, sorting them by 'meat', and then clicked on the picture of a mound of the mince in order to bring up a list of International dishes that required that particular ingredient.

In this case, I was presented with 4 dishes: an Australian meat pie, German Frikadellen (chunky meatballs), French Tomates Farcies (tomatoes stuffed with mince meat) and a Chinese spicy fried aubergine dish.

Mince meat is one of the poorer example of an ingredient where you only get a limited choice of recipes and there are also other examples of where you may discover that your favourite ingredient does not have a huge selection of dishes, but with 250 dishes on offer, it's not too difficult to find an alternative. Some ingredients, such as pork, have over 20 recipes.

Once you've chosen your dish or dishes you can save them as a 'favourite', transfer the list of ingredients into a shopping list or if you're ready to go, you can get on with the baking.

Out of the four choices I had, I played it safe and went for the relatively simple Tagliatelle alla Bologneses recipe, an Italian dish that I'm told takes 60 minutes to prepare and cook and weighs in at 821 calories.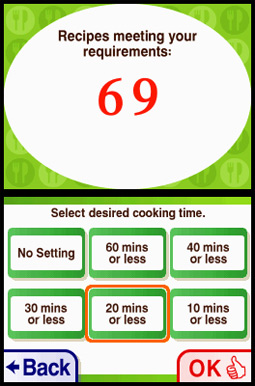 At the start of the recipe - and this applies to all dishes - I was given tips and advice, such as ensuring that all the mince was fully broken up in order to bring out the rich flavour of the meat.

Before you begin, you get a list of the ingredients and can tick a check box that brings up a picture and a description. You can also view a list of the utensils you need for the job.

First up, you get a screen that breaks down each step of the preparation and cooking process. Click on 'Cook' and a small drawing of a chef appears in the bottom corner of the screen who becomes you guide, talking you through the entire process. On the upper of the dual screens you'll see instructions that appear one at a time, such as 'Chop Onion', 'Peel Garlic' or 'Sautee Mushrooms' and on the bottom screen you can use the stylus to go back to a previous instruction, move on to the next or ask the chef to repeat. If you'd rather go hands-free, which works a treat if you've got food all over your hands, then you have the option to issue those commands with your voice into the DS microphone.