The Interactive Cooking Guide from Nintendo
FOR STARTERS

Jamie Oliver recently advised women unfortunate enough to have husbands or boyfriends that don't cook to punish them by abstaining from sex. The good news is that if your wife did heed those words of advice, then you have the chance to get your sex life back on track thanks to a novel and interactive way of learning how to cook, Nintendo's DS offering Cooking Guide: Can't Decide What To Eat?

Luckily, I've never been one of those sexually frustrated men as I do my fair share in the kitchen, but I do tend to stick to basic meals, such as a traditional Sunday roast, a Shepherd's Pie, or perhaps if I'm feeling adventurous, a lasagne.

As I was charged with reviewing Nintendo's digital cookbook, it made perfect sense to put it through its paces and at least attempt to cook up a delectable Internationally-inspired feast from the selection of 250 or so recipes.

Cooking Guide: Can't Decide What To Eat? isn't a Cooking Mama clone. It's not a game, but a serious tool for buddy chefs and a decent reference guide for those who may already know there way around the kitchen. At first glance, the guide appears to be nothing more than a database of recipes from around the world, with some pretty pictures showing the finished article and a set of instructions that take you through the cooking process.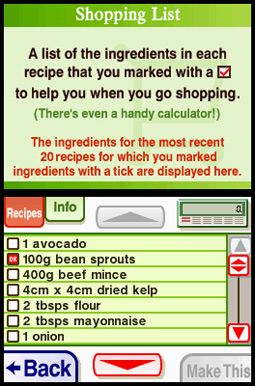 There's much more to it than that though. Cooking Guide is essentially a cooking companion that is far more interesting than flicking through the pages of one of Mr Oliver's many static guides. This cooking guide not only shows you how to make the dishes, but takes you by the hand, teaches you the very basics if necessary, and demonstrates through words, pictures and videos how you can make some great dishes. It encourages you to be experimental in the kitchen because it offers an International flavour of dishes and presents the recipes in a simple format that anyone should be able to follow. Even if you already know a thing or two about cooking, I dare say, that the tips and advice it offers may also be of value.

Chock full of visual representations and descriptions of each ingredient and dish, Cooking Guide takes you through the whole of the cooking process, from using its built-in shopping list to pick up the ingredients at your supermarket, to the preparation of the food, the cooking of it and the serving up.

The comprehensive search engine can be used effortlessly to hunt for the perfect recipe. You can search by country, by courses, by ingredients, by calories, by the time it takes to cook or a number of other variables. If you know the dish you're looking for, or just part of the name, you can simple write it on screen and the DS will scan the database to find a correct match.