With a major revamp of the Xbox Live dashboard set to launch any day now, we take a look at what to expect from the host of new features that aim to bring the Xbox 360 console to the forefront of living-room entertainment.

Dashboard overhaul

The existing dashboard has been given a makeover to make it more streamlined for executing gesture-based controls via Kinect. As you can see from the screenshot below, the interface will have a less cluttered look that should help make navigation simpler.

You'll also notice a number of new tabs running across the top of the dashboard, signalling Microsoft's intent to make Xbox 360 a hub for social networking and entertainment.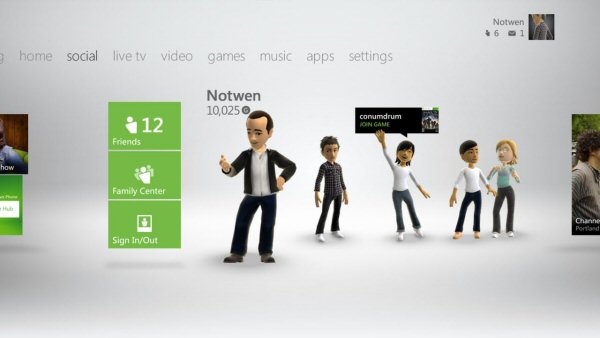 New tabs include Bing, Social, Apps and TV





Enhanced Kinect functionality

The new dashboard should enable you to flick through the myriad of menus swiftly and intuitively, but the update also brings with it enhanced voice controls to completely save couch-potatoes the bother of hand-waving.

Using the new search function you might, for example, want to find a game. You'll be able to call out "Oblivion" and the Xbox will arrange and show all content on your hard drive that contains that word - from skins and DLC to music and movies. The search system will pull data from every area of the Xbox 360, including external applications, such as Sky TV. With the new search option the idea is that you should be able to find anything on the console quickly, but also pull up all related content.

Social Networking

The dashboard update is set to deliver deep social-media options. A new system will allow those who use Twitter and Facebook to post achievements and send push notifications, while beacons, which are a way to tell your Xbox Live and Facebook friends that you want to play a game on Xbox Live, should help players unearth more multiplayer opportunities.

Though it hasn't 100 per cent been confirmed, it's believed the update will also carry Skype, an application that allows users to make voice and video calls and chat over the Internet. This would make sense given Microsoft's recent Skype purchase

Windows Phone Integration

The following video has just landed today, showing how Windows Phones will connect and interact with Xbox Live. The video reveals how you can use the Bing search engine on the phone to interact with the dashboard and find items quickly. You're essentially able to use the phone as the controller.

One of the apps that we know will feature and integrate with Windows Phones is Microsoft's Kinectimals game. On the phone you can accessorise your pet, generate a QR code and then transfer it to the Xbox 360 by scanning it through the Kinect sensor.

Check out the video:





Cloud Storage

Using the Cloud service you'll be able to store "game saves" securely instead of on a portable memory unit or your console's hard drive. This should free up more space on smaller-capacity consoles for storing music, movies and pictures.

More TV and Entertainment

You can already watch Sky TV through Xbox Live, but now that BBC, Channel 4 and Channel 5 have all signed up, as well as a host of other entertainment providers, Xbox Live is set to become a great place to get your TV fix. You Tube integration is also promised, too.

A bunch of other features are still being kept under wraps until release date, which could be as early as next week, if rumours are to be believed. Microsoft has previously stated the dashboard update is likely to launch in the middle of November.

For further details about all things Xbox Live, head over to the official Xbox website.