Last week we learnt of the impressive tech specs of the Xbox: Project Scorpio console, via a Eurogamer exclusive. Yesterday, gaming industry journal Gamasutra published an article about its own exclusive audience with the Microsoft Xbox: Project Scorpio developers, plus tech specs and pictures of the ustom made Scorpio dev kit.

Interestingly, the Scorpio dev kit has some significant upgrades over the proposed new 4K console design. An Xbox developer told Gamasutra that "It's much easier for a game developer to come in higher and tune down, than come in lower and tune up. Or nail it. That just rarely happens". Games developers will be aiming to hit several goals such as 4K, 4K textures, rocksteady framerates, HDR, wide colour gamut, and spatial audio. The upgraded hardware helps towards those goals but so does having DX12 runtime components "baked into the system itself," Gamasutra was told.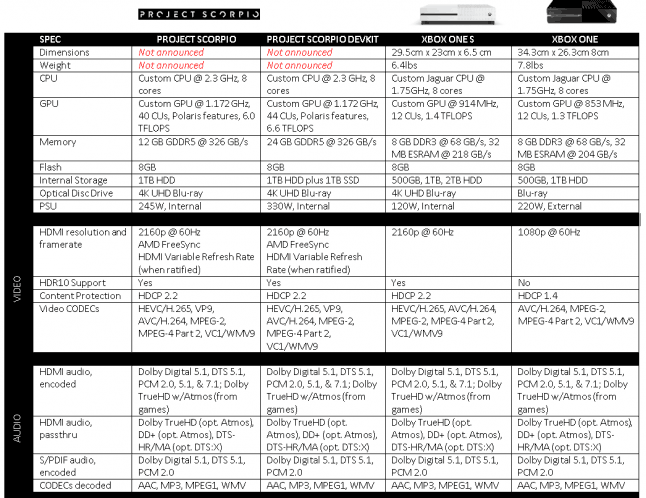 For the developers to have the luxury of being able to 'tune down', the Scorpio dev kit includes beefier hardware such as; 24GB of GDDR5 RAM (rather than 12GB), basically the same GPU but with 44CUs enabled (rather than 40), and an additional 1TB SSD drive. Furthermore, there's a detailed OLED status display on the front of the dev kit with five programmable buttons alongside. Microsoft packs a high-speed transfer cable in with Scorpio dev kits, said to be able to push 100GB of data in about 4 minutes - helping devs rapidly test new builds etc (transfers are 6 to 7 times faster than previously).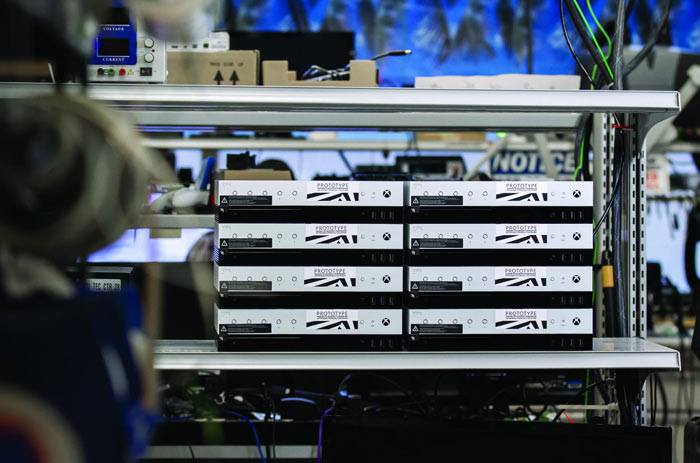 With the upcoming Scorpio, Microsoft don't want to have developers do any custom work to get things to run better. In an analogue to PCs, Microsoft suggests the Xbox One would meet any game's minimum specs, while the Scorpio would match its recommended specs. The underlying platform remains the same.
All pictures / tables from Gamasutra.