In the build-up to E3, there were many rumours flying around the net that Halo creator, Bungie, was going to reveal a new Halo title at the event, but so far it hasn't materialised.

The bad news for fans is that it's not going either, after a post on the offical Bungie site revealed that the company was actually prevented from revealing its big news by its publisher.

A letter has been posted by President of Bungie, Harold Ryan stating that it did have something big to tell it s community and is disappointed to let them down.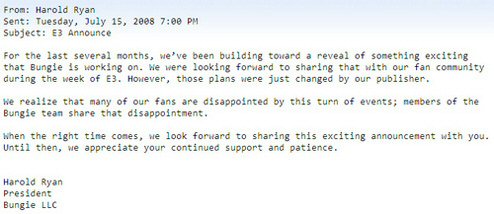 Last week, Joystiq apparently received a photograph of an image that's been doing the rounds on Wal-Mart's intranet, which shows that a shooter called Halo "Blue" is scheduled with a tentative release date of September 30th.

Gamespot also claimed to know more information on Halo "Blue" stating that it will be a "darker, grittier" squad shooter in the vein of Ghost Recon or Gears of War.

No-one knows for sure what Bungie will reveal, but one thing's for certain, we won't be finding out this week.

Be sure to check out our full E3 2008 coverage