At E3, gaming peripheral manufacturer, Nyko has revealed its latest line of Intercoolers for Xbox 360 and PS3.

The TS Intercooler features all-new TempSmart technology that measures relative ambient air temperature and regulates air flow through the console in order to achieve an ideal environment. The aesthetic design it says is specifically tailored to each console to provide a sleek-looking solution.

The Intercooler TS snaps onto the back of the Xbox 360 or PS3 and features powerful fans that move hot air away from the console.

The PS3 version version offers a customised cooling option with variable fan-speed control, while the new TempSmart feature for both PS3 and Xbox 360 versions automatically controls operation to ensure an optimal console temperature based on the environment. In addition, an AC power source has been added to provide a powerful solution on all TS-series Intercoolers.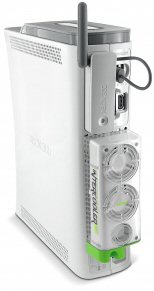 "After the success of the earlier Intercooler series, we wanted to offer our consumers a second cooling option for the Xbox 360, in addition to the PS3, with new features that have been in high demand", said Chris Arbogast, Director of Marketing at Nyko Technologies. "The intuitive TempSmart technology is sure to make the Intercooler TS popular among first-time users and loyal Intercooler fans alike."