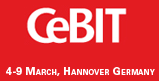 Hall 22 is the place to be at this year's CeBIT for gamers. Not only will it host the World Cyber Games when it kicks off on Thursday, but there's also a presence from Razer, Electronic Arts, Roccat, AMD and Microsoft, all of whom are planning to make an impact amongst the gaming crowds.

It's Microsoft and the Xbox 360 who are out in force though, because aside from the huge World Cyber Games main stage, where 200 gamers from across the world will be battling it out for International pride, it has a moderate presence with the Xbox 360 console and considering that CeBIT is primarily a technology show, they dominate a decent chunk of the hall, where incidentally there's not a PS3 in sight.

As you can see from the pictures, aside from seeing Microsoft employees busily unpacking boxes, there are a line of Xbox 360 pods set next to the main World Cyber Games stage, plus two booths, where gamers will be able to play some of the latest games.

Unfortunately, all of the monitors and Xbox 360 consoles were turned off, so we have no idea what games will be on show.

We'll be heading down there tomorrow, when CEBIT officially opens.