Valve has announced that anyone who pre-purchases any piece of Steam hardware will qualify for a free copy of both Rocket League and Portal 2. The games come free, not just with any Steam Machine, but also with the purchase of key accessories such as a Steam Controller, or Steam Link. In related news we have heard that the HTC Vive VR headset will only be available in limited quantities during 2015.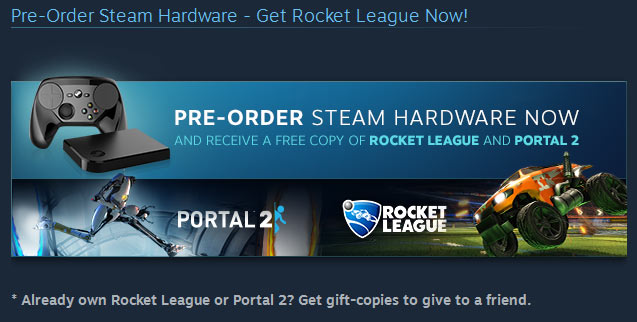 If you have already pre-purchased any Steam hardware before the 27th August Valve assures that "you will receive free copies of Rocket League and Portal 2." Whatever the case, "they will be added to your Steam account by September 4th." If you have pre-ordered hardware at a retailer, like GAME in the UK, "you will receive a key for free copies of Rocket League and Portal 2 when you complete and pick up your purchase."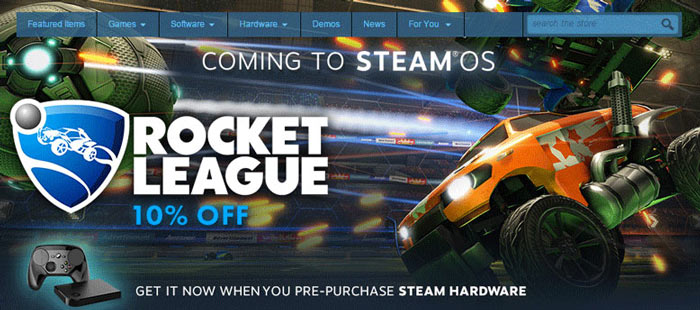 The bundle news coincided with some news from Rocket League developer Psyonix, which triumphantly Tweeted "1 Million Sold on Steam! Coming to SteamOS/Mac later this year! 48-Hour Steam Sale at 10% off!" As of the end of July, Rocket League has also shifted four million copies on the PS4.
Steam Hardware will start to ship from 10th November with the likes of the Steam Controller and Steam Link costing just £39.99 each. For a single Steam account you will only get the pair of free games once.
HTC Vive headset
The HTC Vive headset, made in collaboration with Valve, looks like it will only be available in limited quantities this year. While its not delayed until 2016 as suggested by some previous reports, the headset availability will be limited and timed near to the end of the year, reports Engadget. We expect to see and hear more about the HTC Vive at PAX Prime, which kicks off today in Seattle.