Last week's news about Valve adjusting the terms of its Steam Subscriber Agreement to follow the letter of the (European) law, but not the spirit of it, caused some rather audible gnashing of teeth across the internet and here on HEXUS. In its updated terms Valve agreed to provide refunds to customers for up to 14 days after a purchase but the games in question must not have been installed or played at all during that short period. Also as soon as you clicked 'Purchase', before you even downloaded and installed the software via Steam, you expressly agree to waive these post-purchase rights…
Online DRM-free games seller Good Old Games (GOG for short) has now come out and published what it believes is a much fairer refund and terms of use policy for customers. The firm said that this kind of policy is a hot topic right now and it wants to make its own stance clear. Thus it has issued the following statement about refunds:
"You have 30 days, worldwide. Hitting "Buy" doesn't waive your rights.
European Union law states that you should have 14 days to withdraw from a purchase. That's not a bad deal, but it's not always enough. We think that 30 days is more like it, and that worldwide is just nicer - within that period, we only consider your purchase final if you've already started to actually download your game. We want all of our customers to feel that our refund policy is there to give you a comfortable experience - not that we were forced into having one."

So that's better but not really anything like a free trial period which many users would appreciate – to see if a game is as good as it is claimed to be. However GOG does include a Money Back Guarantee in its terms for games that just don't work on your system "for one of the million (technical) reasons," that can plague PC games on the multitude of PC/Windows builds around.
GOG says that if a game doesn't work on your system and the support team can't help get it working and playable on your PC then you can get a refund (cash or store credit – it's up to you). Again this guarantee period is 30 days but the countdown timer stops as soon as you contact GOG technical support about the troublesome game.
To round off GOG says how its customer service support team is "a cool, friendly bunch of people. Emphasis on people." So you may be able to enjoy good support for all your GOG purchases, even ones you bought years ago. The team has got bigger and now work on Saturdays and Sundays for your convenience with the average support ticket response in under 24 hours with problems resolved, on average, in 36 hours.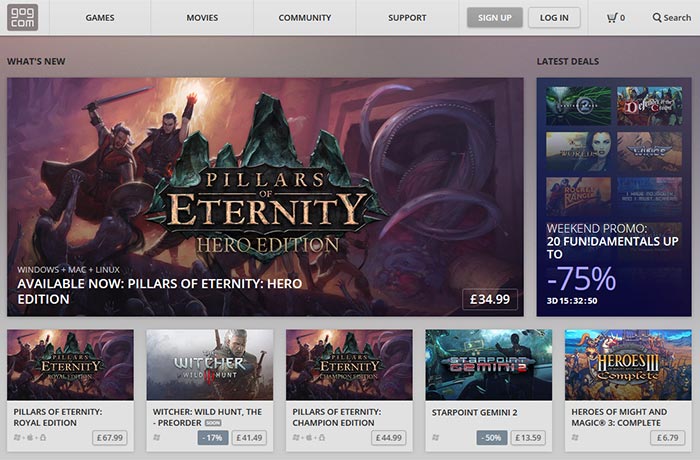 In related news HotUKDeals users are currently very excited by a GOG deal on CD Projekt Red's The Witcher 3 Wild Hunt. Apparently some IP address shenanigans using the likes of 'Hola' allows buyers to purchase this new game for just £10.90 via GOG Ukraine. Alternatively it's a £41.49 pre-order purchase via GOG accessed directly from a UK IP address.