The Walt Disney Company and Electronic Arts have jointly announced a new multi-year agreement. The deal will bring new Star Wars games, within the most popular gaming genres, on the most popular gaming platforms to Star Wars fans all across the world. Financial terms of the agreement were not revealed.
Just over a month ago we heard that Disney closed down the LucasArts video game business "to shift LucasArts from an internal development to a licensing model, minimising the company's risk while achieving a broader portfolio of quality Star Wars games". This happened with two major games in development; Star Wars 1313 and Star Wars: First Assault. Unfortunately this latest press release doesn't address the fate of these two titles.
This new exclusive agreement between Disney and EA will mean that new games based on Star Wars characters and storylines will be put into development for PCs and consoles. However Disney will "retain certain rights to develop new titles within the mobile, social, tablet and online game categories".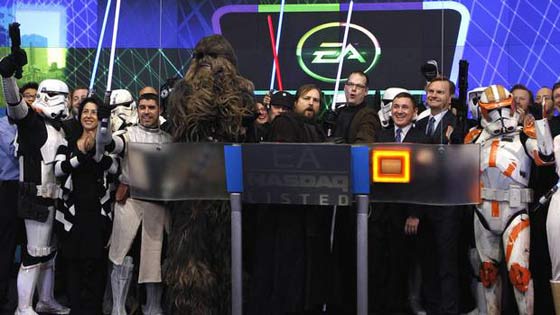 John Pleasants, Co-President of Disney Interactive said of the new agreement, "This agreement demonstrates our commitment to creating quality game experiences that drive the popularity of the Star Wars franchise for years to come." He added that "Collaborating with one of the world's premier game developers will allow us to bring an amazing portfolio of new Star Wars titles to our fans around the world."
DICE, Visceral and BioWare
EA Labels President Frank Gibeau informs us that "DICE and Visceral will produce new games, joining the BioWare team which continues to develop for the Star Wars franchise. The new experiences we create may borrow from films, but the games will be entirely original with all new stories and gameplay". He informed us that "Powering it all will be the Frostbite 3 development engine – guaranteeing incredible graphic fidelity, environments and characters". Gibeau didn't have any specific title details to share but said "our development teams are already brimming with design ideas".
Despite having so many ideas EA are casting their nets out and want to hear game suggestions from fans. On EA's new blog page, informing us of the Disney partnership, it seems like a finished Battlefront 3 game would be very popular. Coincidentally in the news today an hour of Battlefront 3 gameplay video footage has leaked online, the video shows an "alpha" version of the game, you can watch it over at Eurogamer.