The Nintendo DSi hits UK stores this Friday, April 3 2009, and retailers are expecting high demand following strong pre-orders of the new hand-held.

Pre orders of the DSi have exceeded those of its predecessor the DS Lite claim GAME, who has stated that a trade-in offer, which allows consumers to buy the new handheld for half the price when they trade in another DS, has encouraged people to upgrade. MCV report that three times as many DSi units have been preorderd compared to the launch of the DS Lite.

Nintendo has also revealed the full line-up of downloadable games for the DSi Shop, which also launches this Friday. Included in the list of new games are: Paper Plane, Art Style: CODE, Art Style: Aquite, Pyoro and WarioWare: Snapped! which should all take advantage of the DSi's camera.

The Opera web browser will also be available to download.

The DSi will be available in both white and black versions and will include two cameras, a bigger screen, a DS-specific download service, an SD card slot, and music playback functions.

The new DSi screen will be 3.25 inches diagonal width, 0.25 inches bigger than that of the DS Lite. It will also be thinner than the DS Lite, measuring 137 millimeters x 74.9mm x 18.9mm, in comparison to 133mm x 73.9mm x 21.5m and will also be 4 grams lighter.

Hardware improvements include a better battery recharge time, on-board memory and an SD card slot.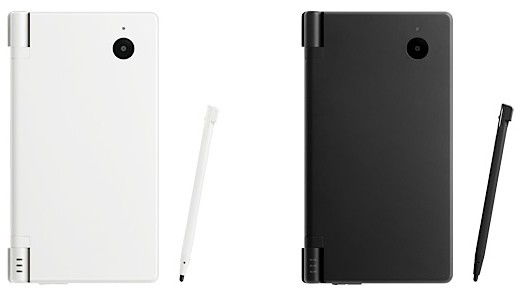 Other features include:

Built-in web browser
Improved audio
Backwards compatibility with the DS Lite (no Gameboy advance games though)
DS and Wii compatibility, which will allow you to take pictures with your DS and play them on your TV via Wii.

In the list of specifications, there does appear to be a backwards step for the handheld - the battery life. With the DSi, battery life will be shortened from 15-19 hours of play at minimum level of LCD brightness and 5-8 at full brightness (DS Lite specs), to 8-15 and 3-4 hours respectively.