Compared with its next-gen console brethren the Nintendo Switch has a reputation for being underpowered. This can mean that some games ported to the system will look or work differently to the other consoles and PC version - or they won't get ported at all. However, the Nintendo hybrid console has its own appeal and USPs which mean that it is currently the only system on the up, when looking at gaming consumer trends over 2019.
The story of how The Witcher 3 was ported to Switch and the challenges it presented is brought to light by an email interview, with Saber Interactive CEO Matthew Karch, published by Venture Beat. After the initial work of getting the title to run on a Switch development kit the title looked like it would be almost impossible to shoehorn into Nintendo's current hybrid console…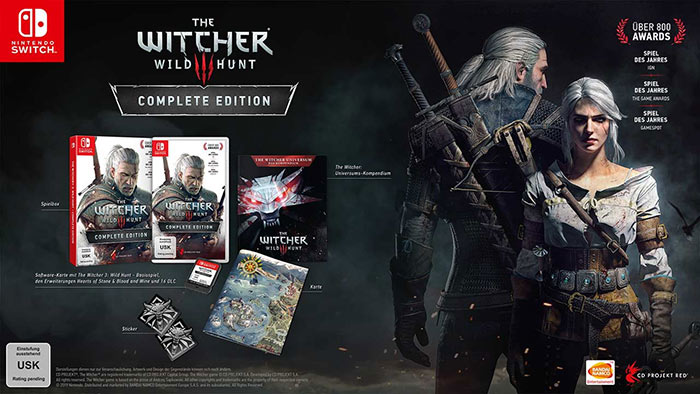 "When the initial port was done, the game was running at 10 frames per second, was taking 50 per cent more memory than the Switch has, and the build size was 20GB larger than the biggest Switch cartridge," Karch explained to Venture Beat. While the dev team knew they would have to make sacrifices and compromises to get The Witcher 3 to perform on the Switch, it sounds like a bigger job than anyone expected.
Initially the most obvious method of cutting back visual frills and NPCs paid dividends in moving towards the eventual goal. However, Saber had to row back changes as the character of the game changed too dramatically. So, what did it do? Developers had to rethink shadow rendering, vegetation, levels of detail and so on - rethinking implementations from scratch.
In all Karch summarised that the development team "worked tirelessly for a year to get the game running on Switch at 30 fps without losing the incredible visuals fans expect". You can see the results, and compare it to your experience of the PC version perhaps, by checking out the video embedded above.
"Alien Isolation on Switch looks better than PlayStation 4"
Another interesting story about Switch development was published by EuroGamer yesterday. Its Digital Foundry arm took a look at the release of Alien Isolation on the platform and were very impressed.
In the investigator's opinion the Switch version of this game, originally released back in 2014 on PC and previous/current gen consoles from Sony and Microsoft, looks better than on the PS4 and Xbox One. Reading through the lengthy analysis it seems like the most significant advantage wielded by the Switch port was the "more modern accumulation temporal anti-aliasing". Elsewhere, the team has trimmed graphics frills where they weighed them up to be inconsequential and generally taken time and care to optimise (for 30fps) - while retaining the bulk of the original technical features in the game.
Another couple of niceties with the Switch release are that the game includes all the DLC since released, and the option to use motion aiming adds a new dimension for gamers.