Press release


Sony Computer Entertainment Europe is pleased to announce the release of Gangs of London on PSP, later this year. Brought to you by SCEE's own London Studio, this all-new spin-off title takes the setting and criminal themes of the legendary Getaway™ franchise but offers gamers a whole new handheld gang warfare experience. With original game styles designed specifically for PSP and a huge range of new features, Gangs of London is set to be a hit with both gaming aficionados and those new to PSP.

Set in the mean and moody streets of London, this title isn't for the faint-hearted. Action meets strategy as you take on London's fiercest gangs in a bid for domination of the capital. With the opportunity to play as one of five gangs, you have to use brains and brawn to overcome the rival criminal factions and gain control of the city's underworld. Become the guv'nor of the Cockney, Triad, Yardie, Russian or Pakistani gangs and take on the capital over a number of unique and challenging game modes:

Choose the gang you want to lead, be prepared to fight dirty and use your head to stay one step ahead of the competition. Each mission is separated with stunning graphic-novel style narratives that guide you through the background story of criminal masterminds fighting for the right to be called Mr Big - London's number one gangster.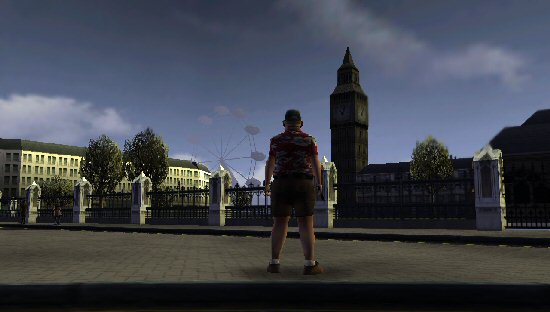 Click for larger image



Each mission lets you control a whole team of gangsters in tactical urban combat. With the ability to 'hot-swap' between differently armed characters in real-time and issue commands to other gang members, you must race and drive your way to the top over more than 60 action-packed missions. Gamers can re-play the missions from different gang perspectives, allowing for a number of different of routes through the game.

'Gangs of London' also offers a turn-based strategy game which brings something completely new to PSP. Using a combination of skill, nerve and chance, gamers can take on up to four other gamers on a single PSP - or compete against the PSP controlled AI.

Combining some of the best elements of both board games and poker, 'Gang Battle' provides you with an interactive map on which you must commit your criminal forces to attack and defend patches of London turf, with bonus cards used to strengthen your grip on the city. As all moves are made 'blind' – players' hitherto secret actions unfold simultaneously at the end of each turn – there is huge scope for multiplayer bluffing, gamesmanship and treachery as you scheme your way to becoming Mr Big.

On top of these two exciting game modes, Gangs of London also features a number of other new options:

Free Roaming mode allows you to explore and tackle the streets of London on your own terms – take your pick of character, vehicle, weapons, mission objectives, weather conditions and police levels, but be careful when exploring enemy turf.

You can even take on the role of an American tourist, complete with paunch, jaunty shirt and conspicuous camera. At the push of a button, Gangs of London's Free Roaming mode lets you activate Tourist Mode, where you're tasked with exploring and photographing the city's most famous landmarks to unlock extras.

And if that wasn't enough, you can also compete with London's taxi drivers by trying out a portable take on the Knowledge (the test taxi drivers in London do to ensure they know every side-street, road and thoroughfare in the capital city). With all major streets signposted on-screen, it won't take long before you know London like the back of your hand.

If it's a short but sweet gaming hit you are after, then Gangs of London's 'British Pub Games' may be just the thing. Slickly-rendered, bite-size games (including darts, pool and skittles) can be accessed from the main menu wherever you are – a perfect chance to experience some authentic boozer 'sports' when you're between bus-stops and a great way of challenging mates to a match.

The title also supports a completely original GameShare mode that will generate a Tube level unique to each PSP, with the content dependent on the serial number of the target system. Once an obliging Gangs Of London-owning friend has beamed it over, different players will find themselves faced with uniquely different mission objectives, environments, characters and weaponry. Whether you are destined to escape, armed only with a bat, from Oxford Circus's pursuing police or to clear Waterloo's northbound platform of 70 Triads with a machine-gun, only your PSP knows.

No matter which of the varied game modes takes your fancy, Gangs of London will have you raring to spill some blood, sweat and tears for whoever you decide to 'run with'. Later this year, PSP owners will be fighting to hold London in the palm of their hands.