Atari today announced that the Haunted House remake for Wii, developed by ImaginEngine, will be released on Wii across Europe on February 4th, 2011.

Haunted House pays homage to the classic Atari 2600 game as players fight for their lives in Graves Mansion as the grandchildren of the original character that disappeared without a trace in the evil mansion over 30 years ago. Chased by pesky poltergeists, haunted by scary skeletons and exhausted from battles with creepy creatures, players are tasked with exploring the dark and creepy depths of Graves Mansion in search of the four lost pieces of the magical urn. The player's goal is to reassemble the urn and defend their family's legacy with the aid of mystical tomes, powerful light sources and multiple keys.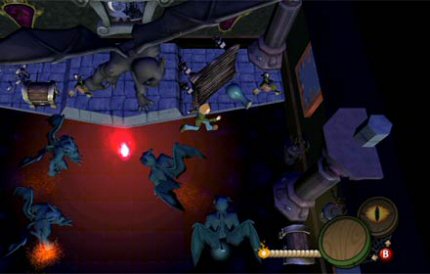 The pick up-and-play arcade-style adventure allows players to jump right in and begin battling for their family's legacy and explore the dark and mysterious levels. An eerie, 3D rich environment of towers, basements and catacombs draws players into the haunted world and cursed story. Find hidden treasures, solve puzzles, fight bosses, and navigate through the spooky mansion and multiple levels on the way to a showdown with Zachary Graves.