With Wii Fit selling like hot cakes, it was only a matter of time before another shrewd developer released a similar title. That developer is Electronic Arts, who is currently fine-tuning the fitness game EA Sports Active, ready for its March launch exclusively on Wii.

Designed in collaboration with fitness experts, EA Sports Active is all about exercising in the comfort of your living room. With the Wii-mote and in your grip and the Nunchuck place in your leg strap (provided), the fitness game will track your movements on screen to give you real time feedback on your workout.

Expect a wide variety of activities that target upper body, lower body, as well as cardio. Each daily workout will feel different then the last and increase in intensity as you work up a sweat towards your goals. In the custom workout mode, you can cater the length of the workout to the time you have available, which body areas you want to focus on and identify your favorite of the over 20 exercises – and you will see how many calories you are burning in real time.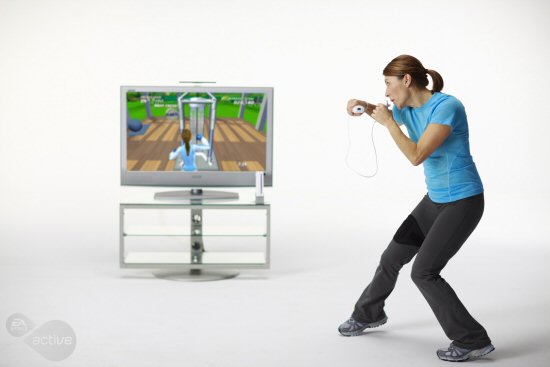 Among the game modes on offer they'll be a 30 Day Challenge that will act road map to reach your goals and your trainer will be the focal point of the experience and create a new 20 minute workout for you every day, providing clear instruction, motivation and positive encouragement.

You'll also be able to customize workouts to suit you, choosing duration and intensity levels as well as your ow calorie goals.

Sounds exhausting. If you're up for shedding some pounds, you can pick up EA Sports Active in March.