Introduction
HD and 3D is all the rage, but when it comes to PC-based video calls, the majority of us are still looking at lacklustre VGA images.
So why is webcam call quality seemingly behind the times? Well, there's one obvious reason: most consumers simply haven't had, or still don't have, the Internet bandwidth required to send and receive high-quality video transmissions.
But broadband speeds are increasing, and if improving webcam call quality is high on your to-do list, there are now a number of HD webcams on the market.
One of the latest is the TouchCam N1 from Taiwanese manufacturer FaceVsion (yes, that's Vision with only one "i").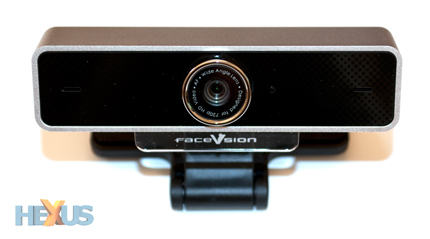 Priced at £87, this premium solution touts "crystal clear HD video and superior audio quality", and is one of few Skype HD-certified webcams on the market.
Considering that the vast majority of today's notebooks and all-in-one computers come complete with an integrated webcam, the asking price is steep, so what do you get for your money?
The hardware
The camera itself - finished in a sleek black and silver body - certainly looks the part and it's fairly compact in size, measuring just 100mm x 45mm x 60mm and weighing 90g.
Inside the rectangular body resides a wide-angle auto-focus lens capable of shooting 720p HD video (1,280x720) at 22 fps in the popular H.264 format, or 768x480 WVGA video at a full 30 fps in a YUV format.
Plenty of pixels, and the TouchCam N1's 78° viewing angle allows you to squeeze multiple faces into a single, wide image. Perfect for chatting with all the family.
You're clearly getting more detail than a standard VGA (640x480) webcam, but the TouchCam N1's higher-quality image shouldn't be a burden on your system. Built into the device is an on-board H.264 encoder chip that handles the encoding of the HD video stream; leaving your PC's CPU free to do other things.
Rounding off the high-quality hardware components are a pair of unidirectional microphones, one sitting either side of the lens.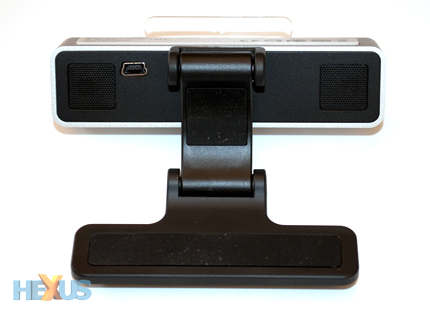 Mounting the TouchCam N1 to a monitor or laptop is a breeze. The stand - adorned with rubber pads for grip - is suitably rigid and a transparent lip carrying the FaceVsion logo acts as a smart-looking bracket.
But whilst it's easy to put in place, there's no horizontal rotation and angling the webcam vertically can also be a little fiddly. Doing so often involves removing and reseating the webcam after a minor adjustment to the mount.
Connectivity and requirements
To the rear of the camera, a single mini-USB port allows easy connection to your PC. There are a few connectivity provisos, though. The bundled cable is a little on the short side - it barely reached the top of our monitor from a desktop tower sitting below the desk - and the TouchCam N1 doesn't currently support Macs.
The good news for PC users, though, is that the camera is plug and play. Attach the USB cord and you're good to go; Windows XP, Windows Vista and Windows 7 will all detect and install the TouchCam N1 in a matter of seconds.
The one stumbling block could be the minimum requirements for 720p video calls. FaceVsion recommends a 2.0GHz Intel Core 2 Duo processor or better and an Internet connection capable of at least 1 Mbps in both directions; upstream and down.
If you fail to meet the later criteria, and we suspect most UK users will, video call quality will be dynamically scaled down depending upon available bandwidth.
Image quality
At full resolution, the TouchCam N1 delivers a very good picture and, when bandwidth constraints come into play, the image quality remains far better than an average webcam.
Compared to a Dell Inspiron 1520's integrated webcam, we found the TouchCam N1 provided a notably sharper image with far better colour reproduction. HD video call quality on both Skype and Windows Live Messenger was excellent; though you'll need to remember that the recipient will also need a high-def webcam for two-way 720p calling.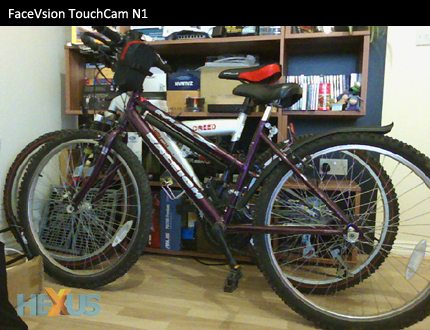 Mouse over the above image to see the difference between an integrated webcam and the FaceVsion TouchCam N1
The added scope of the wide-angle lens is a bonus, and the difference in audio quality is dramatic. Whilst the notebook's integrated microphone produced crackly, muffled audio, the TouchCam N1's dual microphones captured crisp, clear speech effortlessly.
But image quality on the whole can be a mixed bag. It's certainly the best webcam we've tested, but it doesn't quite match our HD expectations. We found the image to be slightly grainy, and when your Internet connection speed fluctuates, the fps can fall to under 18 frames per second. The image is smooth, but not silky.
What is useful is the camera's ability to auto focus. When moving objects up to and away from the lens, the TouchCam N1 was able to refocus in roughly two seconds. It isn't instant, but it's more than quick enough for video calling.
Final thoughts and rating
FaceVsion's TouchCam N1 is a marked improvement on most integrated webcams, but the hefty £87 asking price isn't reflected in the overall package.
Unfortunately, the TouchCam N1 ships with no carry case and no recording or editing software in the box. If you're hoping to capture HD snapshots for your Facebook wall or HD video clips for YouTube, you'll have to rely on third-party software solutions.
The minimalist bundle makes it hard to recommend the TouchCam N1 to most home users. Rival solutions from the likes of Logitech and Microsoft are available for less and come armed with software designed to bridge the gap between the hardware and social-networking websites.
As it stands, FaceVsion's camera is best suited to the small business; where excellent call quality and a plug-and-play install make it an effective, no-frills communication tool.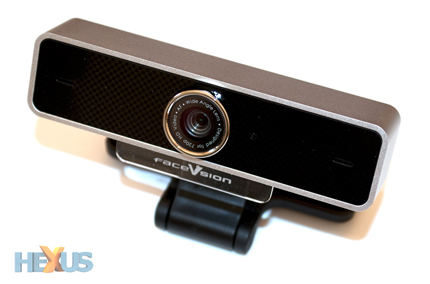 The Good
Excellent video and audio quality
Plug and play
Smart, compact design
The Bad
Expensive
Incompatible with Macs
No bundled editing/recording software
HEXUS Rating

FaceVsion TouchCam N1
HEXUS Where2Buy
The FaceVsion TouchCam N1 is available to purchase from Dabs.com.
HEXUS Right2Reply
At HEXUS, we invite the companies whose products we test to comment on our articles. If any company representatives for the products reviewed choose to respond, we'll publish their commentary here verbatim.